Our best travel tips for South Africa
South African is 100% life. From hip Johannesburg to world-class Cape Town, from the Big Five in the game reserves to the notorious Sani Pass, from the wine regions around Stellenbosch and Franschhoek to some of the best surf spots in the world.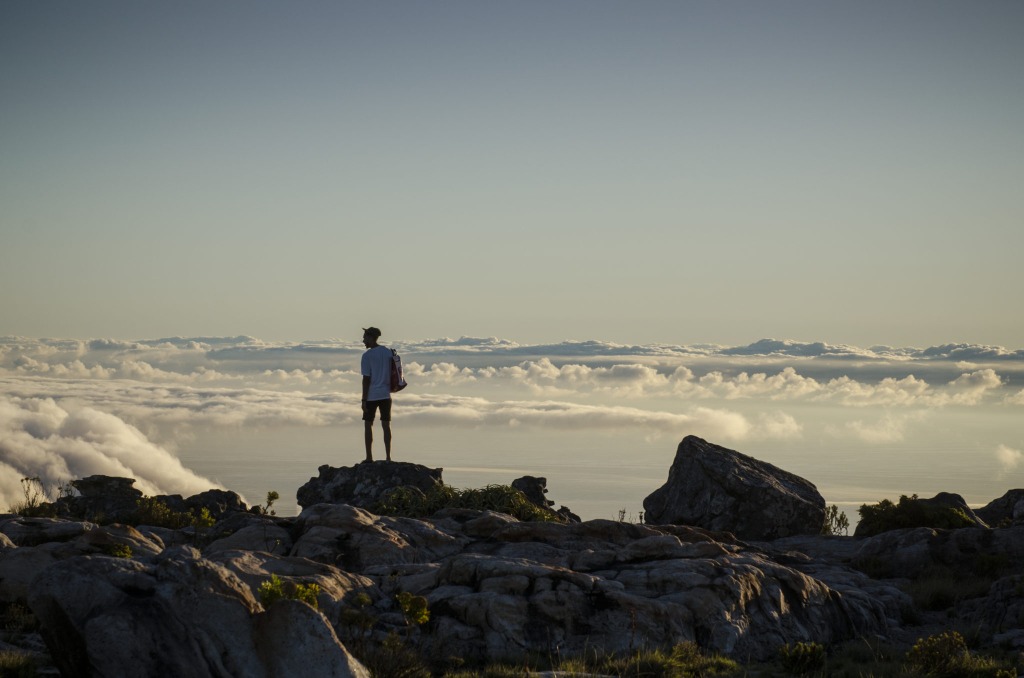 You can taste South Africa; in the large tin pots belonging to mamas in Soweto, in the bottles and barrels of the wine farms in the Western Cape.
You can smell South Africa; from the pure wilderness in Kruger National Park to the fresh sea breeze blowing around your face at the Cape of Good Hope.
You can hear South Africa; in the life-affirming sounds of the street musicians on every other corner, of the hyenas' calls as the day comes to an end in the game reserve.
You can see South Africa, too, and admire it; when the clouds climb down Table Mountain like icing sugar, in slow motion so you don't miss anything. Or when the grass on the slopes of the Drakensberg looks so juicy and green that it almost hurts your ideas.
You can even feel South Africa, right up to the last corner and the last pore of your goosebumped skin. South African is 100% life. From hip Johannesburg to world-class Cape Town, from the Big Five in the game reserves to the notorious Sani Pass, from the wine regions around Stellenbosch and Franschhoek to some of the best surf spots in the world.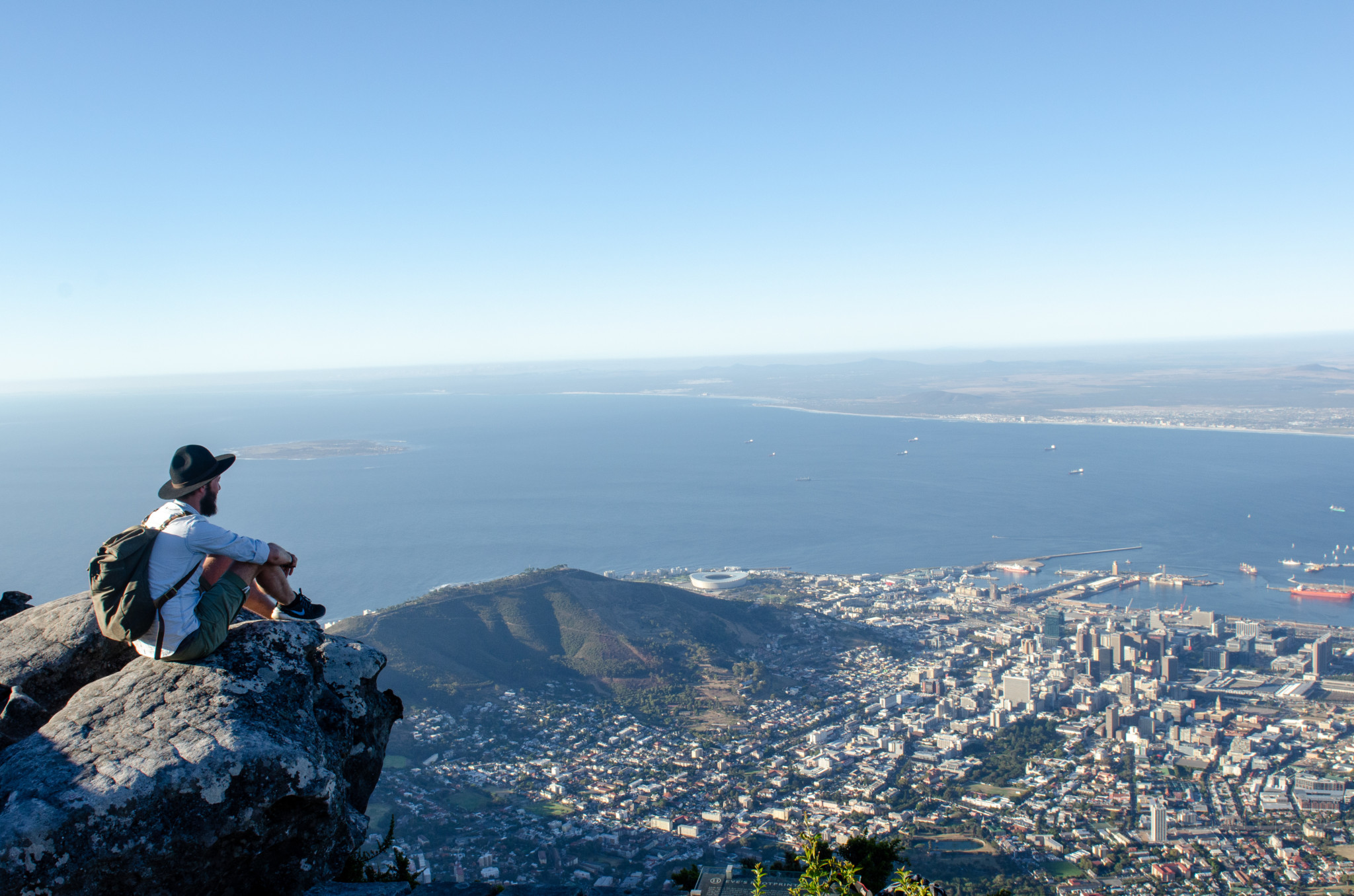 Highlights
Cape Town
The Mother City of South Africa and undisputed national gem. Flanked by Table Mountain, the legendary Devil's Peak and Signal Hill, Cape Town is idyllically located on the often-rough Atlantic Coast.
Immigrants from France, the Netherlands, Indonesia, Britain and Germany make the city a melting pot of cultures. The area around Western Cape has much to offer, for the unique nature of the Table Mountain National Park to the picturesque coast of Camps Bay, Clifton, Llandudno, Bantry Bay, Hout Bay and Bloudberg, to the peaceful wine region. The Cape of Good Hope and Cape Point, the penguins of Simon's Town and the colourful beach houses of Muizenburg are also worth a visit.
Johannesburg
Johannesburg, also known as Jo'burg or Jozi, is the pulsing heart of South Africa – defined by its young, ambitious and hip population, no other city is as busy and exciting as this one. From Melville to Maboneng, plenty of hot districts are gathered in Jo'burg – the most successful urban regeneration projects in the world with alternative shops, market-like art studios and trendy cafés. Rich and poor live side by side – expensive districts are next to areas like Soweto, supposedly the world's largest township. All this makes Jozi a world metropolis that never gives up, is always changing and developing.
Garden Route
If you like road trips, the Garden Route will suit you down to the ground. The N2 motorway leads to the southern region – from Mossel Bay in the Western Cape Province until near Port Elizabeth in the Eastern Cape. It is one of the country's tourist hotspots, with a national park and Knysna lagoons. Surfers should head to Jeffrey's Bay.
Stellenbosch & Franschhoek
Stellenbosch is the unrivalled wine centre in South Africa. As well as numerous vineyards, it has a scenic town centre with a museum and the Dutch Reformation Church. In Franschhoek, another wine area, the heritage of the French Huguenot immigrants is evident.
Kruger National Park & Game Reserves
A safari is not to be missed. The Kruger National Park, around as big as Belgium, is famous for this – it is home to wild elephants, lions, leopards, buffalo, hippos, giraffes, zebras, gnus and many, many others. These can be observed early in the morning and in the late afternoon on game drives and from luxury encampments.
There are also a few private animal parks west of Kruger, such as Klaserie Nature Reserve, Timbavati Private Nature & Game Reserve, Sabi Sand Game Reserve and Umbata Nature Reserve.
Durban
The surf mecca of South Africa, known for its Golden Mile beach promenade and harbour. Its multicultural atmosphere is thanks to its diverse immigrants, shown in the Temple of Understanding as well as mosques like the Jumah Mosque.
Pretoria
The executive capital is known for its parks and gardens with aloe, acacia and fig trees.
Drakensberg
The Drakensberg, up to 3,482 meters high, is the largest mountain range in the country and is perfectly suited to hiking, climbing and riding.
Midlands
Between the KwaZulu-Natal coast and the Drakensbergs are the Midlands, with their forested hills, arable land and lush plains with quaint villages and taverns.
Port Elizabeth
Right on the Garden Route, Port Elizabeth boasts the most sunny days in the country. The city offers lovely beaches, particularly Summerstrand and Humewood.
East London
The romantic east coast is known for its beaches around East London, like Eastern Beach, Orient Beach and Nahoon Beach.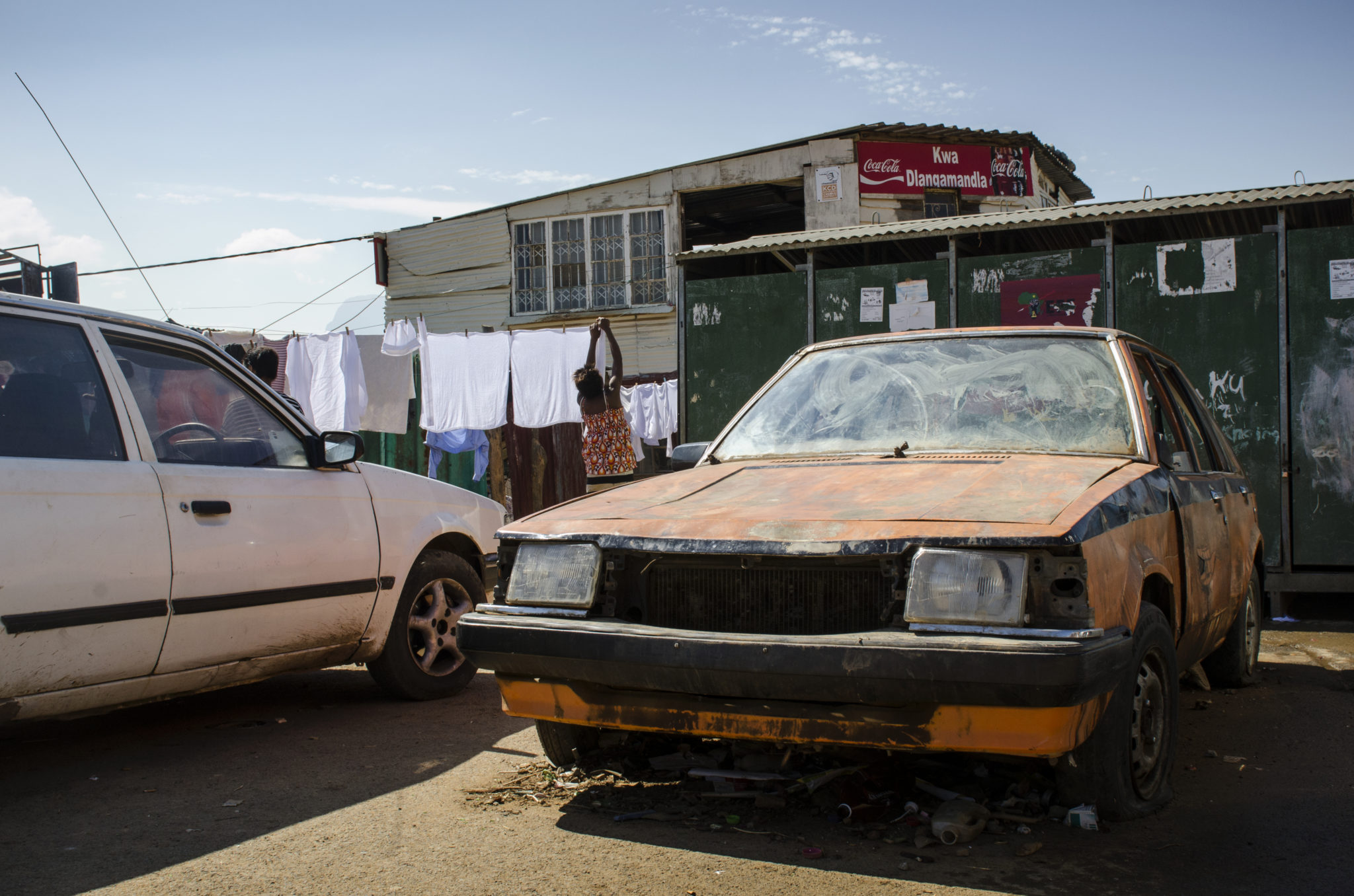 Arrival
By plane
Flights from Europe to South Africa: South African Airways, the national airline, offers daily direct flights from London, Frankfurt, Munich and other European Cities to Johannesburg (JNB), as well as connections there from Zurich and Vienna. SAA then offers connections to Cape Town (CPT) every 30 minutes.
British Airways offers direct flights from London to Johannesburg and Cape Town.
Lufthansa flies from Frankfurt to Johannesburg and Cape Town. Austrian Airlines flies from Vienna to Johannesburg, while Swiss goes from Zurich to Johannesburg then onto Cape Town. Air Berlin offers connections from Berlin, Düsseldorf, Hamburg, Cologne and Munich to Cape Town. Condor has connections from Frankfurt and other cities to Cape Town and Johannesburg.
Flights from the US to South Africa: From the U.S.A. the only direct flight to South Africa is with South African Airways from New York (JFK) and Washington Dulles to Johannesburg or with Delta Air Lines from Atlanta to Johannesburg. From most other US Destinations (eg. Washington D.C., L.A., Miami or San Francisco) you can fly via a European hub with a European carrier such as British Airways, KLM, Air France or Lufthansa (see above). Alternatively some Middle Eastern carriers are also connecting Turkey the US, such as Emirates and Etihad.
By train
South Africa can be reached by train from the neighbouring countries of Zimbabwe, Botswana and Mozambique. More information can be found on South African Railways.
By bus
There are bus connections from neighbouring countries, mostly from the capitals, including Namibia, Botswana (via Ramathlabama), Zimbabwe (via the Beit Bridge), Lesotho and Swaziland.
By ferry
Cape Town, Durban, Port Elizabeth and East London have large harbours served by large ship companies, including cruise ships.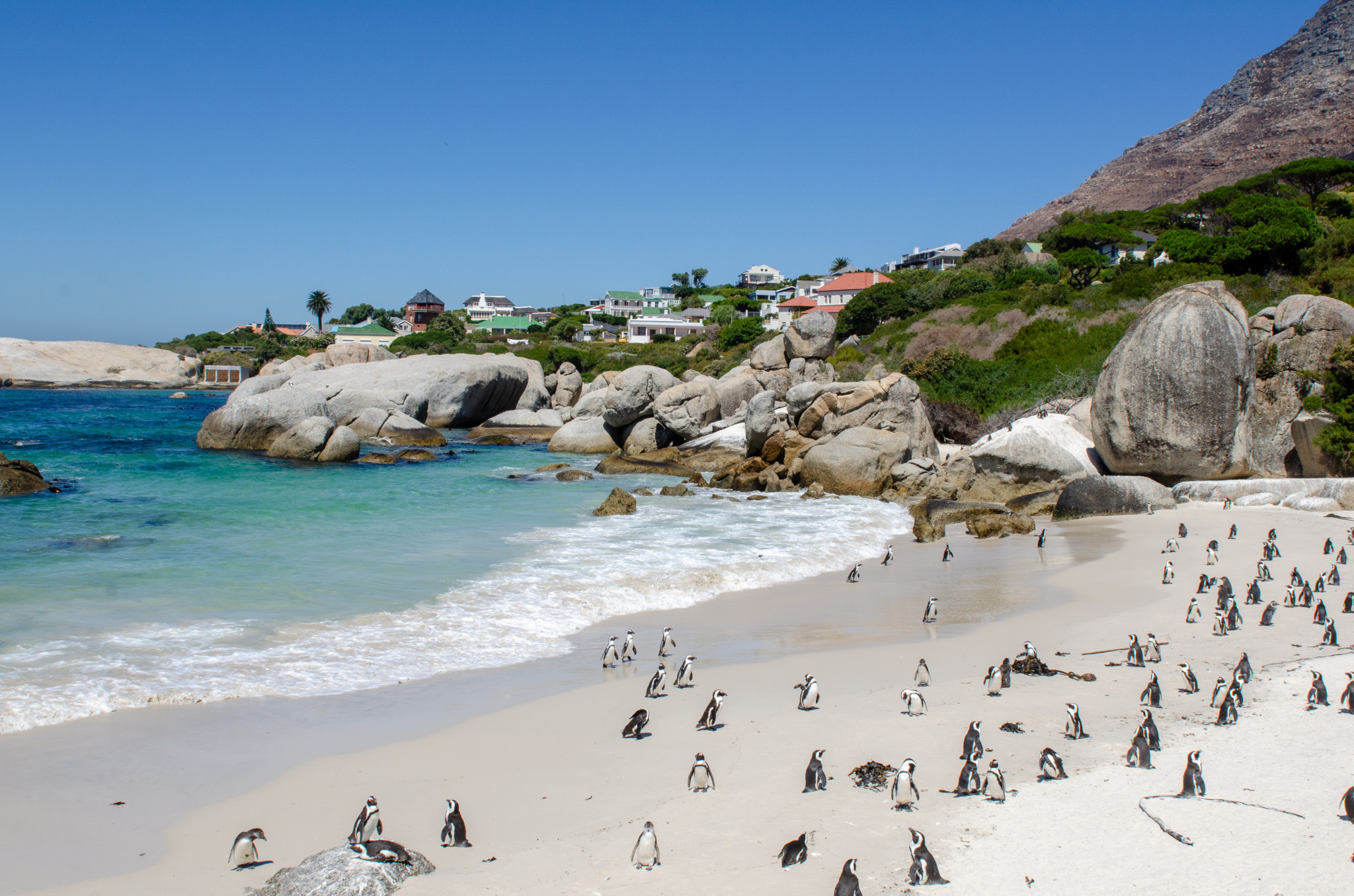 Visa
Entry requirements for British citizens
British citizens that want to visit South Africa for tourism or business purposes for a period of up to 90 days, don't need a visa. Your passport should be valid for a minimum period of 30 days from the date of exit from South Africa.
Entry requirements for US-American citizens
U.S. citizen visitors to South Africa for stays of up to 90 days for tourism, short business meetings, or in transit do not require visas in advance. Visitor visas will be issued at the port of entry in South Africa.
If you are from any other country than the ones mentioned above, please refer to the visa information given by your country's authorities.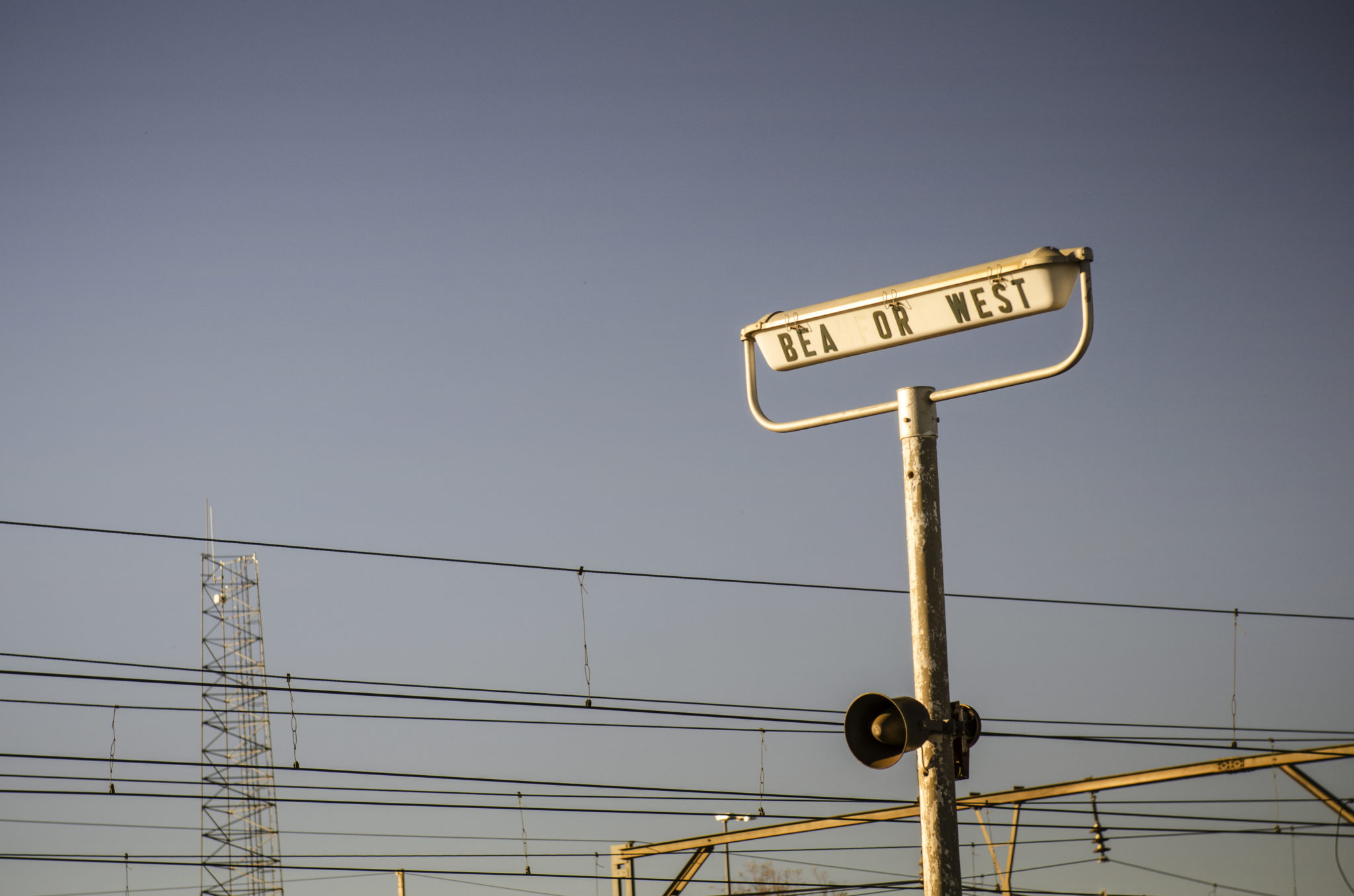 Language
English is the primary language of communication, understood and spoken by the majority of South Africans. There is also Afrikaans and 9 other official languages: IsiNdebele, IsiXhosa, IsiZulu, SePedi, SeSotho, SeTswana, SiSwati, TsiVenda und XiTsonga. In Cape Town, Johannesburg and other tourist destinations you can get by on English.
Yes – Ja
No – Nee
Please – Asseblief
Thank you – Dankie
Sorry – Jammer
Nice, delicious (food, girls, anything) – Lekker
I don't understand – Ek verstaan nie.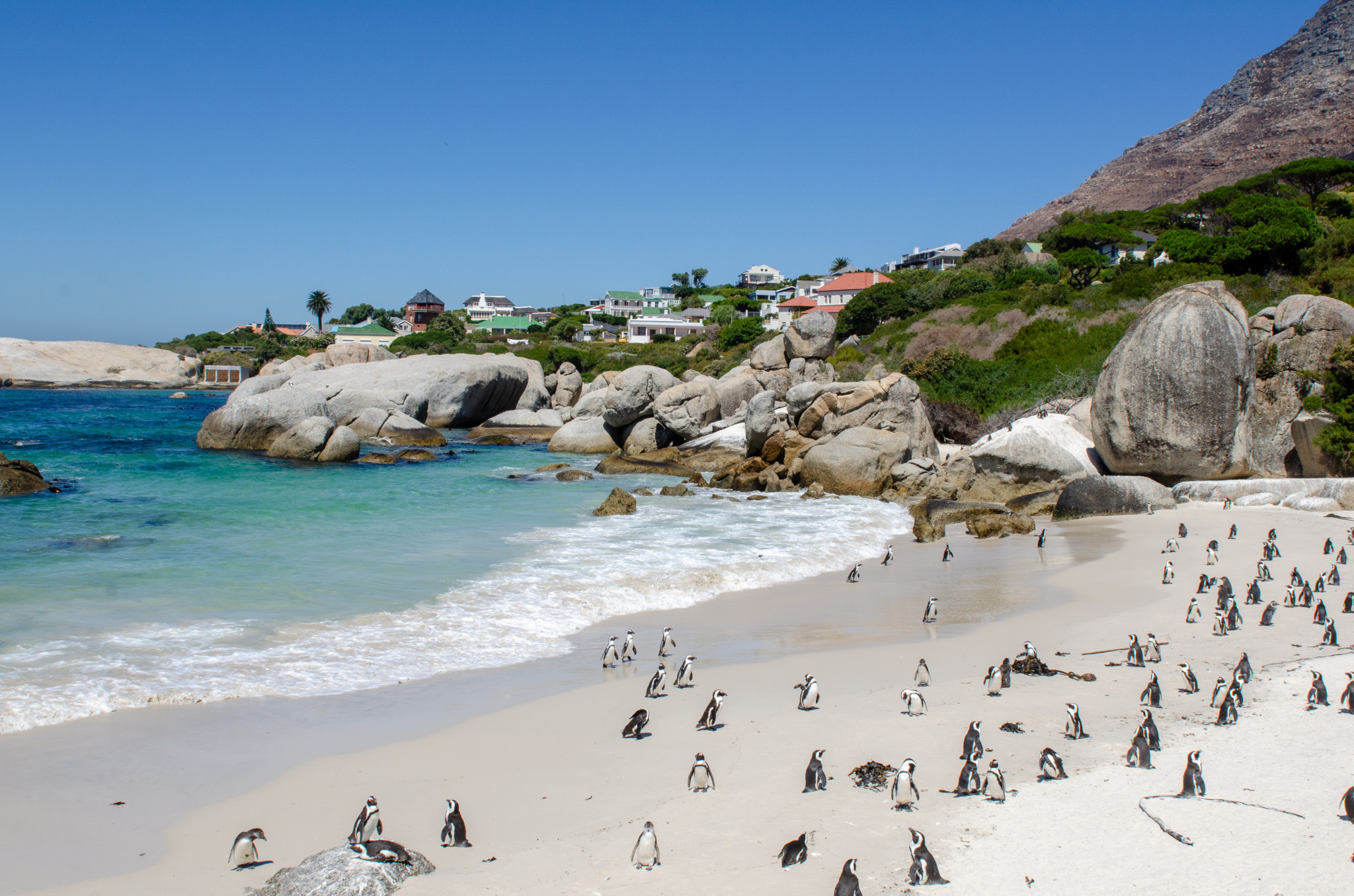 Best time to travel to South Africa
South Africa, of course, lies south of the equator, meaning it is always the opposite season to the northern hemisphere. When it is the middle of winter in Europe, it is high summer in South Africa and vice versa. However, the country can be visited at any time of the year – the best time depends on desired activities (beach bathing, outdoor sports, safari).
Days are generally mostly sunny with mild winters, even though there can be snow in the mountains around the Cape and Natal. In the southwest there is a Mediterranean climate, inland a moderate climate, while it gets subtropical in the northeast.
High season is December and January. In the Cape region (Cape Town and Western Cape), along the Garden Route and in national parks, it can get very crowded. Prices also go up during this time. You can go on safari anytime in South Africa.
The local spring (late August to mid November) is ideal for outdoor activities, with many hours of sun. There is a very pleasant climate in autumn, between late March and May.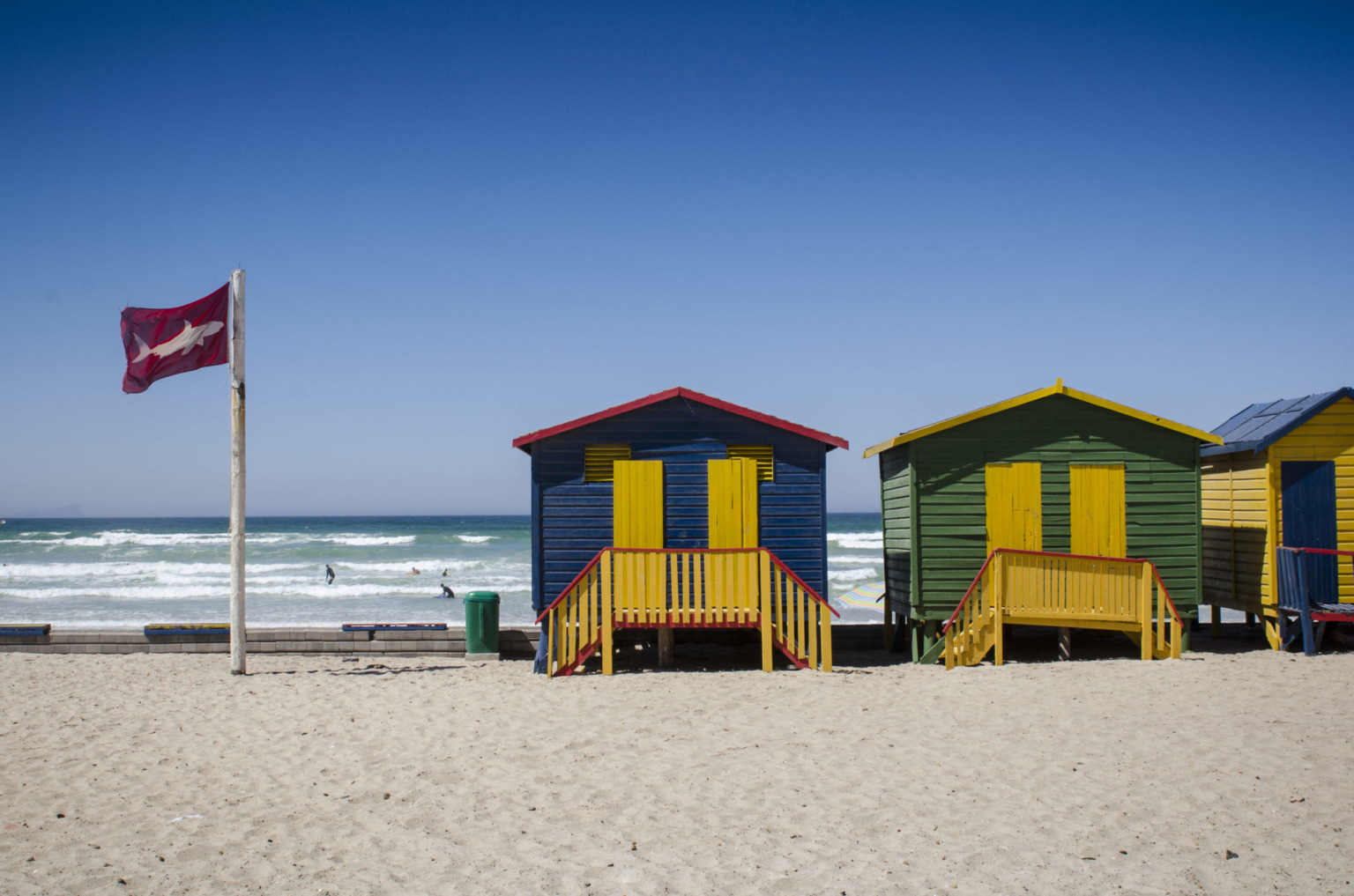 Currency
The currency in South Africa is the edge. For a euro you get about 10 Rand. The price level is somewhat cheaper than in Germany.
Credit cards
Nearly all international credit cards like MasterCard, Visa, American Express and Diners Club are accepted in many places, such as banks, hotels, shops and restaurants. For legal reasons, petrol stations and inland is often cash-only.
ATM
There are enough ATMs in cities. EC Cards with a Maestro symbol can draw out up to 2,000 rand per day. In large cities and other tourist places, cashless payment is possible.
Surveilled ATMs are common in shopping centres and petrol stations.
Changing money
Euro and US dollars can be exchanged at most banks (Standard Bank, FNB First National Bank, Nedbank, Absa Bank) and Hotels, as well as Cape Town International Airport, after showing a passport.
Accommodation
South Africa has hotels of all price boundaries, to camping spots in national parks, guesthouses, hostels and B&Bs. Especially in high season, you should book well in advance.
Camping in the wild in South Africa is not recommended as it is not safe. However, there are almost 800 campsites and caravan parks.
Safety regulations
Criminality is not as bad as it is made out to be in the media – things have continuously improved in the past few years. The crime rate has significantly decreased, even in Johannesburg, the "Capital of Crime". During the World Cup in 2014, there was a huge investment in security measures, such as video surveillance and more controllers.
The country still remains divided, even 20 years after the end of apartheid. One of the main problems is huge economic disparity. The worst criminality is in the townships and Cape Flats. As a tourist, watch out for petty crime like pickpocketing and car burglary. There are also the general things travellers should be careful of. Avoid the inner parts of Cape Town, Johannesburg and Durban after dark and on Sundays. Do not hitchhike and only order taxis from authorised companies – hotels can help with this. Townships like Soweto should only be visited in organised groups with a local supervisor.
Be careful when driving a rental car. Criminals use the "smash and grab" technique. Always keep the windows shut and lock the doors from inside (central locking system). Handbags, cameras and other expensive items should not be visible in the car. Even when suspicious people on the roadside indicate that the car is breaking down, this could be a trap.
A South African pre-paid SIM card is recommended, saving important emergency numbers. The national police telephone number is 10111, with the ambulance being 10177.
Please take note of the current travel and safety advice and refer to the federal offices' recommendations.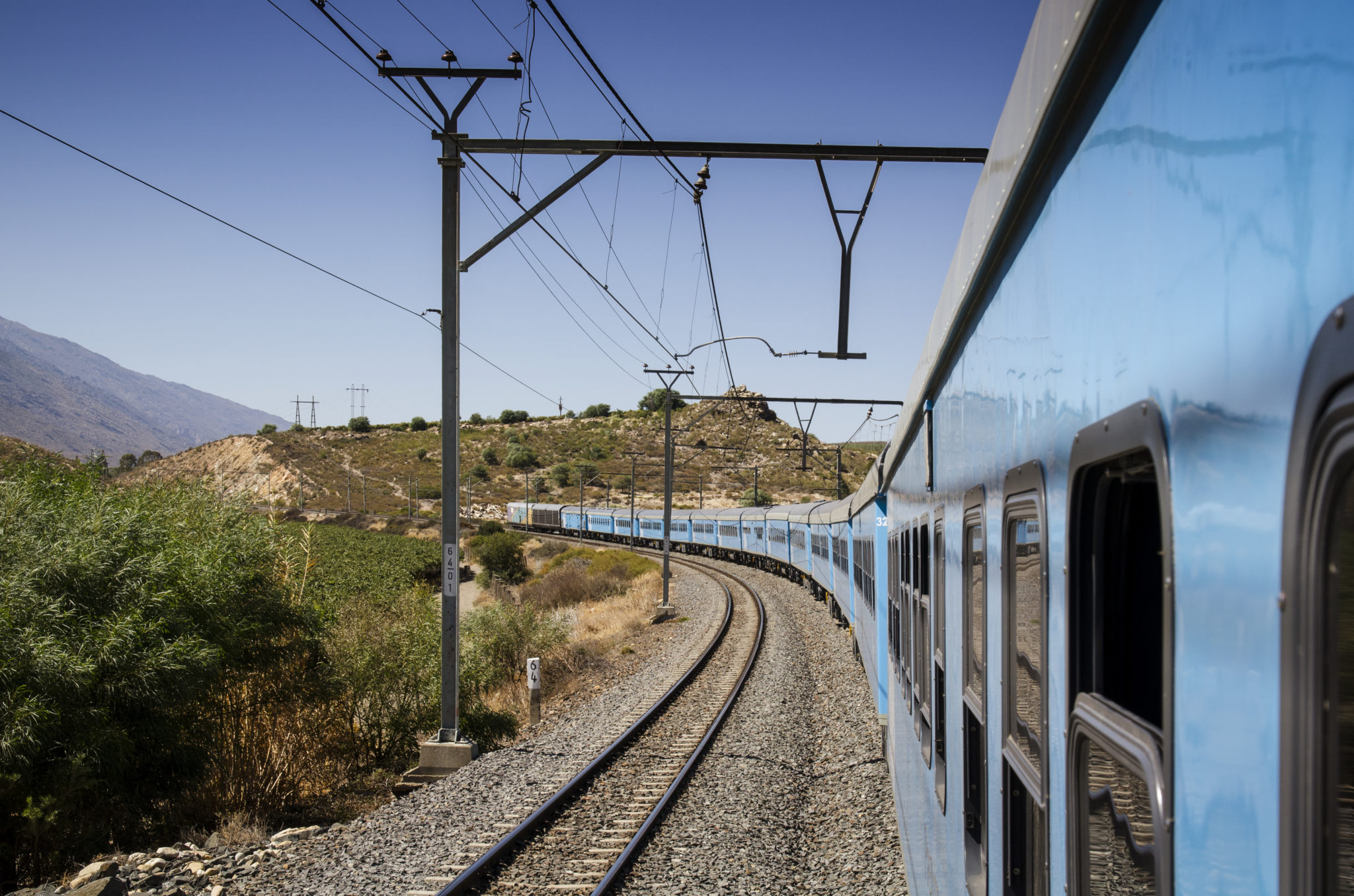 Public transport
In South Africa, public transport is rather limited. Even in densely populated cities like Cape Town and Johannesburg, there are only bus routes on the main drags. Millions of people use their own car or the often overfilled small buses.
For tourists, mobility by car only really applies in large cities, on national motorways, tourist areas and along the Garden Route.
Domestic flights
Domestic flights within South Africa offer a good way of getting from A to B. Almost every city has an airport. In addition to South African Airways, there are a few regional and budget airlines, such as Mango Airlines or Kulula.
Bus
Long-distance buses are cheaper and quicker than trains in South Africa. Several companies operate national bus routes, but quality varies. There are also routes into neighbouring countries, often in modern, well air-conditioned buses. More information is available at Greyhound (www.greyhound.co.za), Translux (www.translux.co.za) and Intercape (www.intercape.co.za).
Minibus
The main mode of transport in South African cities. Most of them, Toyotas, follow an established route through the city – however, there are no official bus stops, so you have to indicate to the driver that you want to get on. If there is room in the bus, you can get on. The price is usually a few rand. Using minibuses is not recommended to tourists after dark.
Train
Another alternative is train travel, around Cape Province as well as between big cities. South Africa's railway history began in the 19th century. Since routes around the country tend to be very long, there is often an on-board restaurant. The main connections are between Cape Town and Johannesburg, Johannesburg and Durban, and Johannesburg and Port Elizabeth/East London. A train from Cape Town to Durban goes once a week. "Express Train" is an overstatement, as trains are generally very slow – meaning most routes are carried out overnight.
There are also luxury trains like the Blue Train (www.bluetrain.co.za), going from Pretoria to Cape Town and Durban, as well as to Kruger National Park. There is also the luxury Rovos Rail (www.rovos.co.za) going between Pretoria and Cape Town, Pretoria and Victoria Falls in Zimbabwe, and between Pretoria and Duncan.
Local train
In most big cities like Cape Town, Durban, Johannesburg, Pretoria and Port Elizabeth there are suburban trails from Metrorail and Spoornet, popular among commuters. They run regularly throughout the day, but not so often in the evening and on weekends. Tickets and maps can be found at stations. However, tourists should try to avoid these for safety reasons.
Taxi
As well as cheap communal taxis and buses, various taxi companies operate in large cities in well-maintained cars. The cost is around 10 rand per kilometre.
Rental car and Campervan
Driving in South Africa is no problem. You can get around very well independently and petrol is very cheap. To rent a car, you need to show an international driving licence at any of the companies, such as Avis, Hertz or Auto Europe. Rentals are relatively expensive, however, and it is recommended to read the fine print and limited insurance protection. Minor damage like dents from stones or damaged tyres are often not covered. For insurance protection according to European law, it is advised to book the car before you arrive.
In South Africa, you drive on the left, so steering wheels are on the right. Many have an automatic gear function allowing you to get used to it.
Depending on the season, air conditioning is advantageous. If going into the countryside, take a 4×4 car with camping equipment, a roof tent, fridge and other equipment.
Crossing the border to Lesotho and Swaziland is generally permitted, but an "Overboard Pass" is required – ask at the company. Often, not all types of vehicles are permitted to enter Botswana and Namibia.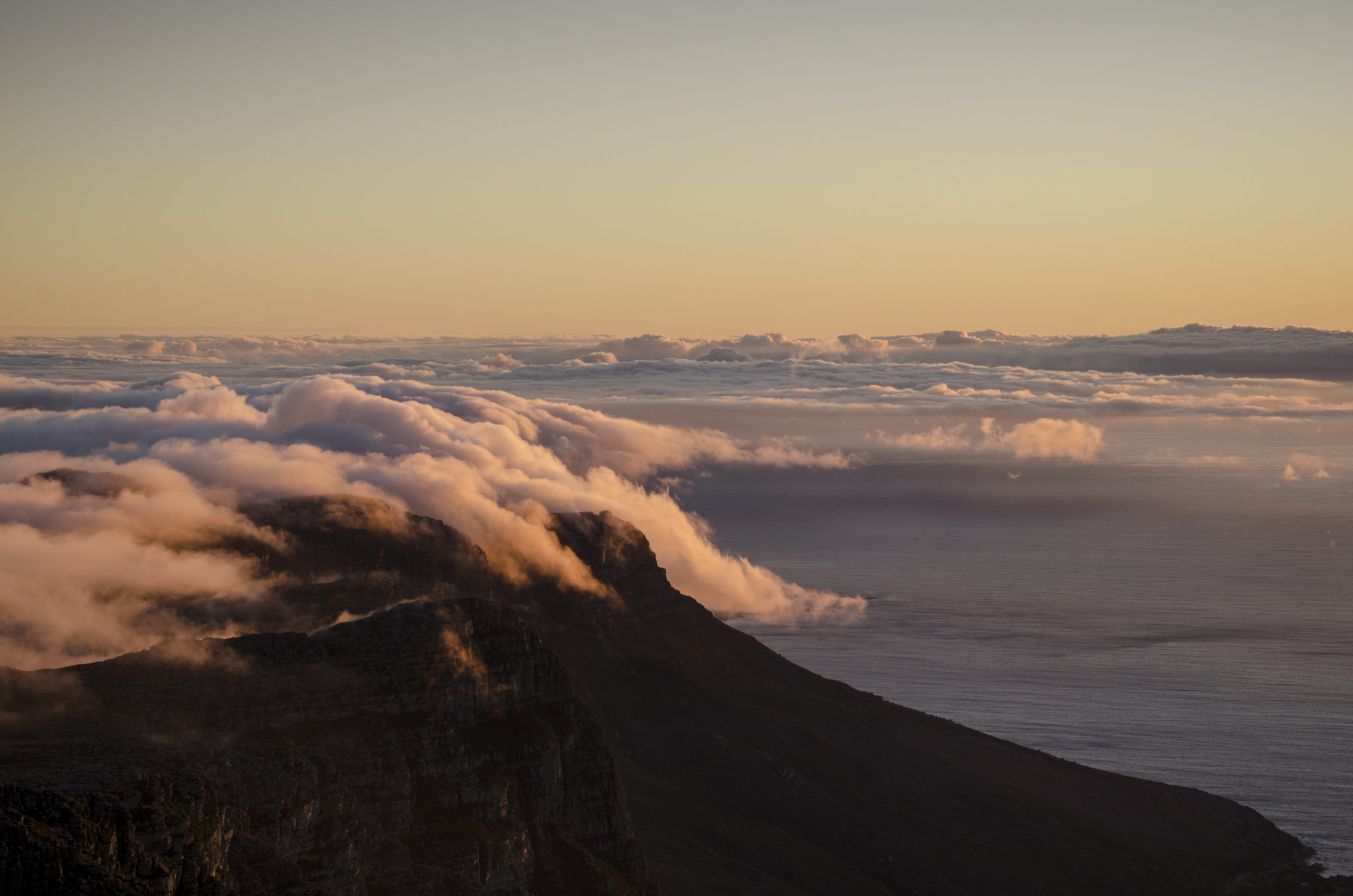 Religion
South Africa is a multicultural society, meaning there are lots of faiths. Around 80% of the population is Christian. Among the countless denominations, the Afrikaans-speaking Reformation church has the most members, followed by the Roman Catholic church, Methodists, Anglicans and Lutherans. There are also 4,000 black independent churches. Minority religions are Islam, Hinduism and Judaism.
More South Africa travel advice
Health advice for South Africa travelers
Medical care in South Africa is extremely good. If possible, look for private hospitals and doctors as the standard here is high – especially since state hospitals are usually completely full. Treatment must be paid for upfront and sometimes can be covered via travel health insurance afterwards.
South African tap water is only drinkable in the larger cities.
South Africa has the highest density of AIDS in the world, with 10% of the general population having the disease and 40% in KwaZulu Natal. The HIV virus is spread via sexual intercourse with an infected partner. Condoms are available in pharmacies, drugstores and supermarkets.
The biggest health problem in South Africa is HIV/ AIDS. Even as a tourist you should protect yourself from a possible infection.
Please refer to the site of the WHO for detailed health information for the designated travel destination.
Typical South African food and drinks
South African cuisine reflects the diversity of the country and its cultures, but only a few dishes are "typically South African". The colonial era had a big influence – various nations brought their traditional dishes to their new home, which gained a local note over the years. With the addition of different ingredients and spices, some of them became completely new dishes.
A trip through the country's provinces means a culinary journey. In KwaZulu, there is an Indian influence. In the Western Cape, there is are Indonesian and Malaysian influences, while Gauteng is very Dutch in its heritage. And thanks to the Huguenots, there's not just a huge wine trade but also a big French culinary scene. The most diverse influences are wonderfully combined to make a unique national cuisine.
Perhaps the most traditional South African dish is boerekos, often eaten for breakfast: a hefty meal of the Boer immigrants consisting of steak, sausage, eggs and fried bacon fat. There is also braaivleis, barbecue of beef, lamb and pig, with vegetables.
Potjiekos is a meat and vegetable casserole, stewed for hours in a cast-iron round above open fire. Pep met wors is a maize porridge eaten with boerewors (sausage made of beef or sheep).
In Cape Town, trying Malaysian cuisine is a must. Bobotie is a mince and raisin bake with cinnamon and bay leaves or roties – flat bread filled with vegetables or fish. In the Cape region, fish dishes and grilled fish like snoek braai are everywhere.
Durban has many Indian restaurants, which are also popular in other parts of the country.
Travel costs: How much does traveling through South Africa cost?
Backpackers and budget travellers should expect €25-35 per day. Other travellers should factor in €45-60.
Internet & SIM-cards for travelers
Although South Africa used to lag in terms of internet, most hotels, hostels and airports offer WiFi, as well as cafés in big cities. In smaller towns and villages, there are often internet cafés.
SIM card and mobile internet in South Africa:
In South Africa, several providers offer a prepaid SIM card, such as Vodacom, Cell-C, MTN or Telkom. After purchase, the SIM card can be charged with data and/ or airtime with different packages; 1 GB of data costs about 150 Rand, which is about 10 Euro.
Literature
The Lonely Planet Guide to South Africa, Lesotho & Swaziland has all necessary information. For a glimpse into the soul of the country, Long Walk to Freedom, Nelson Mandela's autobiography, is recommended.
These articles could also be interesting