The sprawling city of Dakar, Senegal's pulsating heart, is perhaps the most un-African metropolis in all of West Africa. The Senegalese capital is known by several names, many of which allude to its vast size. For many living in the Senegal's remote hinterland, the city represents a place of longing and an idealised dream.
Arrival in Dakar can affect first-time visitors with a sort of shock: there is an all-pervading chaos, amplified by the heat and traffic. The air is dense and the exhaust fumes seem to penetrate the very pores of the skin. The curbstones are cluttered with hawkers, offering cups of coffee made with granulated Nescafe, or fresh fruits, or perhaps a selection of sunglasses. In its noise and colour, Dakar offers a vibrant initiation for travellers embarking upon a Senegalese adventure.
Although confounding at times, Dakar's immense transport networks are in fact well-developed. So well, indeed, that it is relatively easy to escape the city for a bit, exchanging the noise and movement for a splash of water and a haven of tranquillity.
Lac Rose
The Lac Rose, otherwise known as the Pink Lake or Lake Retba, is located just 50 km away from the city. Several tour operators offer overpriced but direct trips from Dakar to the lake. The journey, however, is much easier and more pleasant by taxi.
Shortly after daybreak, the streets of Dakar are already bustling. Standing at the edge of the traffic, a cacophony of car-horns emanates from an endless throng of cabs, liveried in black and yellow. The majority of these are so old, they would almost qualify as vintage. Many a window is wound down in perpetuity, while a string of Misbaha prayer beads dangles from the rear view mirror. Most cabs will pull to a stop immediately at the sight of a prospective passenger. With a questioning gaze, the drivers tend to focus on the road ahead. They barely speak, other than to negotiate the price. "Bonjour, comment allez-vous?" or "Salam aleikum" are reasonable opening gambits for a price-negotiation marathon with one of Dakar's taxi drivers. After a good ten minutes of to-and-froing, a couple of disingenuous refusals and a tedious round of counter-bids, the price is generally set: a private expedition to Lac Rose from Dakar costs 30,000 CFA. That amounts to around 45 Euro (US$56, £40). Although a costly-sounding sum for West Africa, this is still significantly cheaper than the tour groups. The price includes a return trip, with a couple of hours spent at the destination.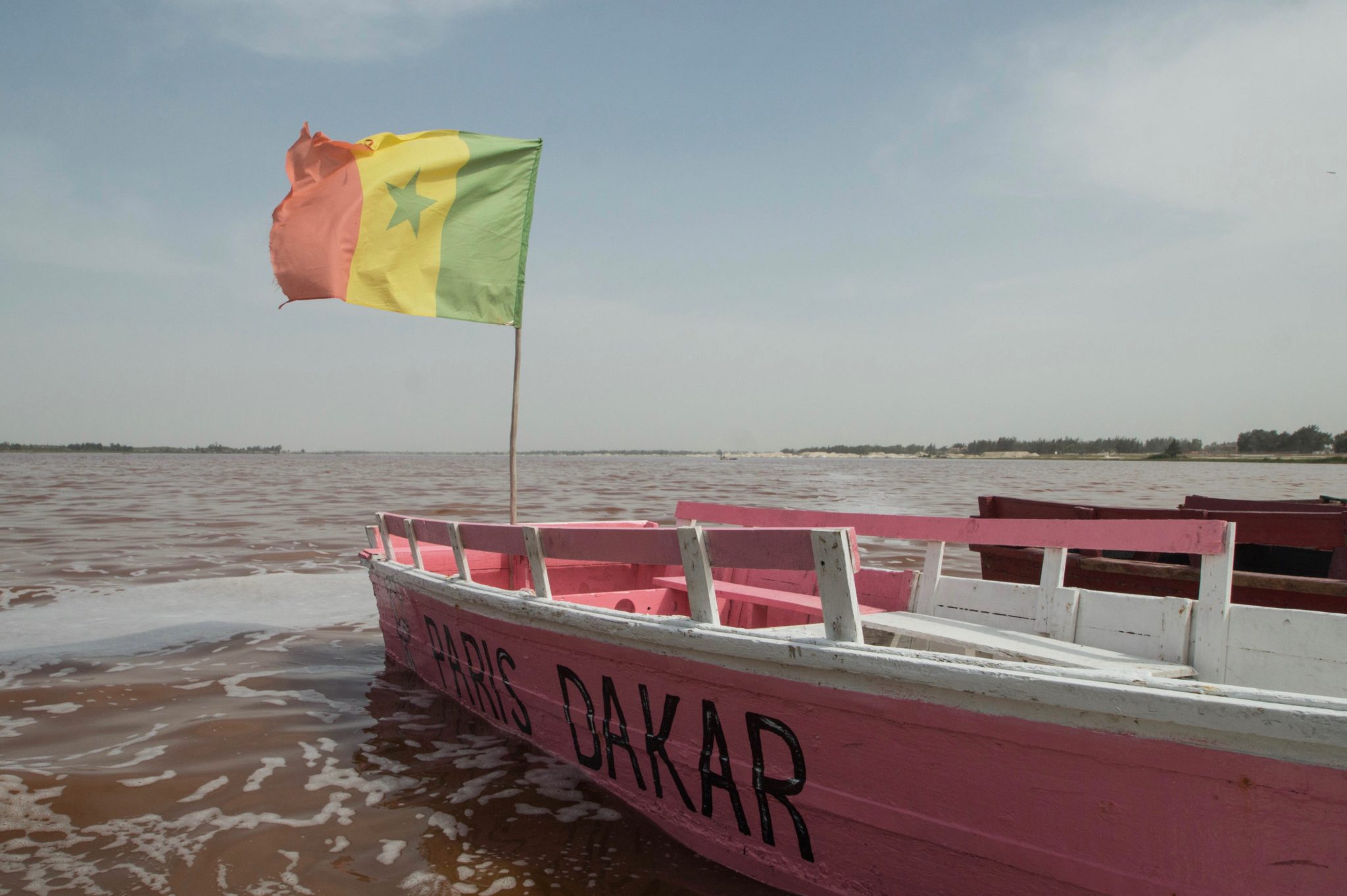 The journey from Dakar to Lac Rose takes about an hour and leads through Dakar's beachfront Yoff quarter, before trailing along the Atlantic and through Niaga. Lac Rose is primed for tourism, offering everything from an outing with a pirate, to a meal at a waterside restaurant or a shopping expedition for local souvenirs. But even without such diversions, a visit to the lake is well worthwhile. The nicest time of all is midday, when the sun reaches its highest point and gleams down upon the water, creating a pale pink hue. With a cool drink in your hand, the warm sand beneath your feet and your face turned towards the sun, it is hard to imagine a more relaxing respite from the intensity of Dakar.
But why is the lake so pink? Some believe the answer lies in the cyanobacteria that flourish in the water. An alternative explanation attributes the phenomenon to a combination of factors: the light reflecting on the sand, a high magnesium chloride content and bacterial carotenoid, an organic pigment. Containing 380g of salt per litre, the Pink Lake, like the Dead Sea, is so salty that you can simply drift across it. Until a few years ago, the lake was also renowned for another reason: it marked the finish line for the Dakar Rally. This legendary desert rally took place each year from 1977 until 2007. The original route led from the French capital of Paris through various remote areas and concluded beside the shores of Lac Rose. However in 2008, the event was cancelled in response to terrorist activity in neighbouring Mauritania. The rally has since been transferred to South America, although it retains its name.
The Eastern shore of the lake is home to a large salt harvesting plant. For many years, vast quantities of salt was harvested here by hand. Men would heave the salt from the water, transferring it into buckets which would be balanced on the heads of women, who carried it away before emptying it onto huge salt mounds.
Be warned: Photographers are unwelcome here, so be prepared to attract some pretty hostile glances.
Journey back from Lac Rose:
With the same taxi taken from Dakar. The fee is calculated to include the return journey and the time spent at Lac Rose.
Price: A private day trip to Lac Rose from Dakar costs around 30,000 CFA by taxi, roughly €45 ($US56, £40)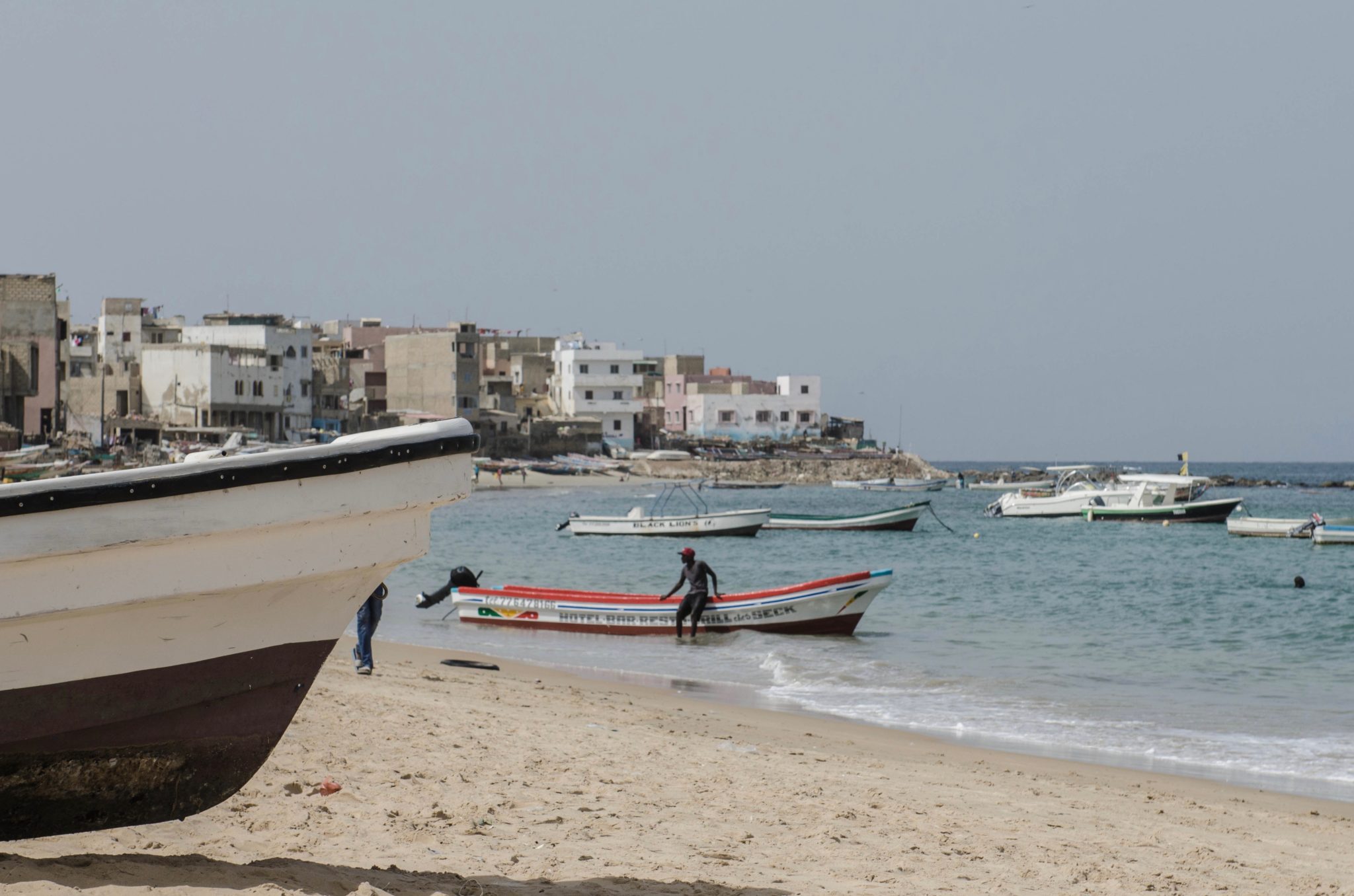 Île de Gorée
The idyllic 'Slave Island'
The island of Gôrée, situated three kilometres offshore from Dakar, marks an ideal retreat from the hustle and bustle of the city – as well as being one of Senegal's best known attractions. The island is best known for being the site from which countless slaves were once dispatched across the Atlantic. Detailed information about the slave trade on Gôrée remains scant, but the island's popularity as a destination continues to grow. Following its inclusion on the UNESCO-World Heritage list in 1978, Gôrée was given a fresh lease on life. Today, its houses are cheerfully and brightly painted. There are no cars on the island, which makes a stroll through its narrow laneways particularly enjoyable. In recent years, the island has also established itself as a cultural haven. Local artists sell their work from outside their homes, or on stalls set up on the island's small hill.
Travelling to Ile de Gorée: Regular ferries depart from the Gare de Dakar.
Prices: A return ticket costs around 5.200 CFA (ca. 7.90 €, US$9.70, £7) for tourists, 2.700 CFA (ca. 4.12 €, US$5, £3.60) for children. An additional tourism tax of 500 CFA per person (ca. 0.76 €) is collected on site.
Recent schedule from Dakar to the Island of Gorée:
Mondays to Saturdays from Dakar to Gôrée: 6:15, 7:30, 10:00, 11:00, 12:30, 14:30, 16:00, 17:00 (except Saturdays), 18:30, 20:00, 22:30, 23:30 (Fridays only), 00:45 (Fridays only)
Mondays to Saturdays Gorée to Dakar: 6:45, 8:00, 10:30, 12:00, 14:00, 15:00, 16:30, 18:00 (except Saturdays), 19:00, 20:30, 23:00, 00:00 (Fridays only), 01:15 (Saturdays only)
On Sundays and Public Holidays from Dakar to Gorée: 7:00, 9:00, 10:00, 12:00, 14:00, 16:00, 17:00, 18:30, 19:30, 20:30, 22:30, 23:30 (Sundays only)
On Sundays and Public Holidays from Gorée to Dakar: 7:30, 9:30, 10:30, 12:30, 14:30, 16:30, 17:30, 19:00, 20:00, 21:00, 23:00, 00:00 (Sundays only)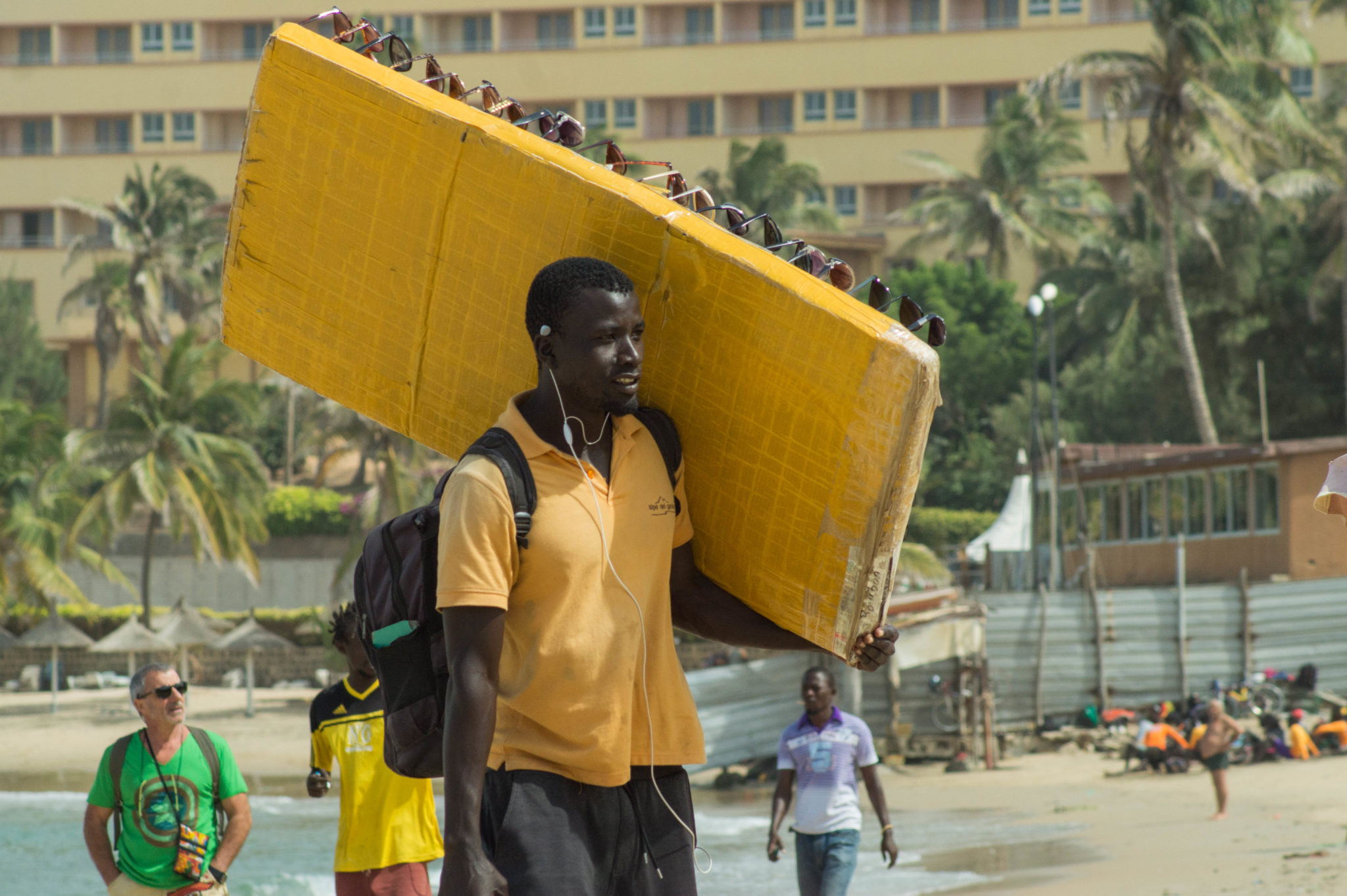 Île Ngor
Not just for surfing in Senegal
The Île Ngor is another small island off the coast of Dakar. It came to fame after two crazy Californian surfers discovered it in 1966, during the global search for sun and surf that became the cult surf film, 'Endless Summer'. On Ngor, they found perfectly linked waves – the dream of any surfer. This, added to the peace and Lineups that other surfers had yet to discover. Even today, the île Ngor seems fixed in an earlier time. There are no cars. Only the softly humming engines of the brightly-coloured Pirogues interrupt the peace. Several times daily, they make the trip across the sea, bringing tourists and Dakar locals alike across to Ngor. The beach is dotted with little grill restaurants, specialising in fish or chicken dishes. Water pipes are widely smoked. Occasionally a surfer will stroll past with a board under his arm– on the way to the other side of the island, where the waves roll in from the Atlantic.
There, on the western side of Ile Ngor, the famous 'Ngor Right' waves break onto the shore. For some years now, a Danish national called Jesper Mouritzen has run a Surfcamp, which has played a key role in moulding Senegal's surfer scene. But even away from the waves, it's possible to spend a relaxing day on Ngor and escape the chaos of the city.
Getting there: Pirogues travel from Dakar beach in the vicinity of the 'La cabane du pecheur' restaurant.
Price: Return journeys via Pirogue cost around 1000 CFA.
Times: There are no fixed timetables. They leave once there are sufficient passengers.
Questions or tips?
Have you been to Dakar? Do you have questions about our tips? Let us know in our comments!
These articles could also be interesting