Review: Hainan Business Class Airbus A330-200 Berlin to Beijing
Since September 2008, Hainan Airlines (founded in 1993) connects Berlin-Tegel and Beijing Capital International Airport non-stop and thus represents the one and only direct connection from the German capital city to Beijing. We tested the route.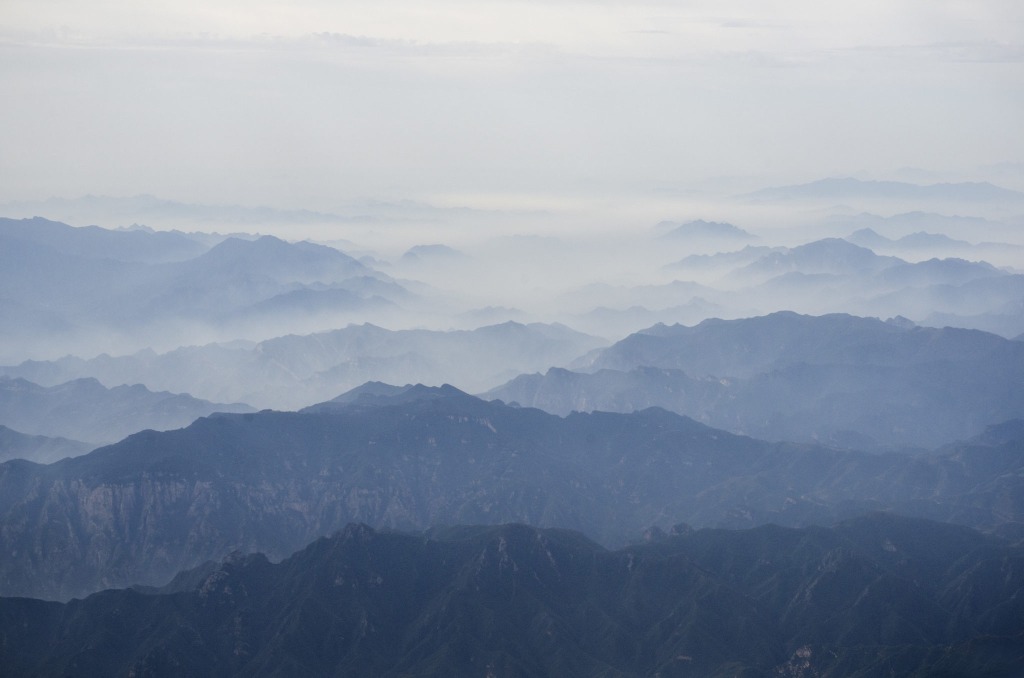 The Hainan Business Class in the Airbus A330-200 provides a unique direct connection between Berlin and Beijing. The pros: good service, delicious food, solid on-board entertainment. The cons: no Wi-Fi and a somewhat outdated cabin.
Hainan Airlines
Hainan Airlines, with its Hainan Business Class product, is part of a very privileged club with only a handful of carriers: the 5-star airlines that are recognized by Skytrax, the global airline rating agency. In addition to the Chinese airline based in Hainan, the elite circle of the highest 5-star airline ratings also includes Qatar Airways, Singapore Airlines, Cathay Pacific Airways, Asiana Airlines, ANA All Nippon Airways, Garuda Indonesia, EVA Air, Etihad Airways and only recently Lufthansa.
Since September 2008, Hainan Airlines (founded in 1993) connects Berlin-Tegel and Beijing Capital International Airport non-stop and thus represents the one and only direct connection from the German capital city to Beijing.
Hainan Business Class Airbus A330-200 – The hard facts:
Airline: Hainan Airlines
Flight number: HU 490
Route: Berlin-Tegel (TXL) – Beijing (PEK)
Aircraft type: A330-200
Cabin flown: Business Class
Seat configuration: 2-2-2
Cabin size: 18 seats
Seat pitch: 74 inches
Seat width: 22.5 inches
Seat recline: 180-degree
Check-in
Hainan Airlines provides complimentary private limousine airport transfer service to its business-class-passengers who take Business Class on specified HU self-operated Europe, North America, and Australia routes, although this does not seem overly well-known. To book a limousine, you have to call Hainan Airlines directly within 30 days and up to four hours before departure. However, this pick-up-service was only used for this review upon arrival in Beijing. Passengers are also greeted individually and directly at the gate in PEK and are escorted through the passport control, luggage hall and customs. This is where you jump into the car, in this case a brand-new Mercedes limousine that will take you right to the doorstep of your accommodation.
Hainan Airlines flies out of TXL's Terminal C. Check-in for business class passengers at Berlin-Tegel Airport takes place at a separate Business Class counter, which is easy to grasp. The check-in is quick and the ticket will be handed over in an envelope that also contains an invitation to the C-Lounge (formerly known as the Weltbürgerlounge).
Lounge
The entrance to the C-Lounge is just a few meters behind the security check. Its front desk managers will not only welcome you, but also explain the lounge area. The most special feature of the C-Lounge is that it is a three-story construction of containers. While the upper floor has a smoker's terrace overlooking the runway, the remaining floors come with seating and work areas. These have a sufficient number of sockets and proper WiFi.
The range of food and drinks in the lounge is adequate, but not overly large. One can find different kinds of small bites like plum cake, soft drinks and, what else to expect in Berlin: real Berliner, a traditional German pastry, which is similar to a doughnut. As in most airport lounges, no announcements are made openly. Thus, lounge guests should keep an eye on the flight information monitors.
Boarding
The passport control in Terminal C in TXL is located close to the security check and the C-Lounge. You should be able to get past it quickly without having to wait in line for too long. Passengers of Hainan Airlines Business Class can board immediately when the boarding process begins. And as the boarding process of the Hainan Airbus is done by foot, business class passengers use the front stairs.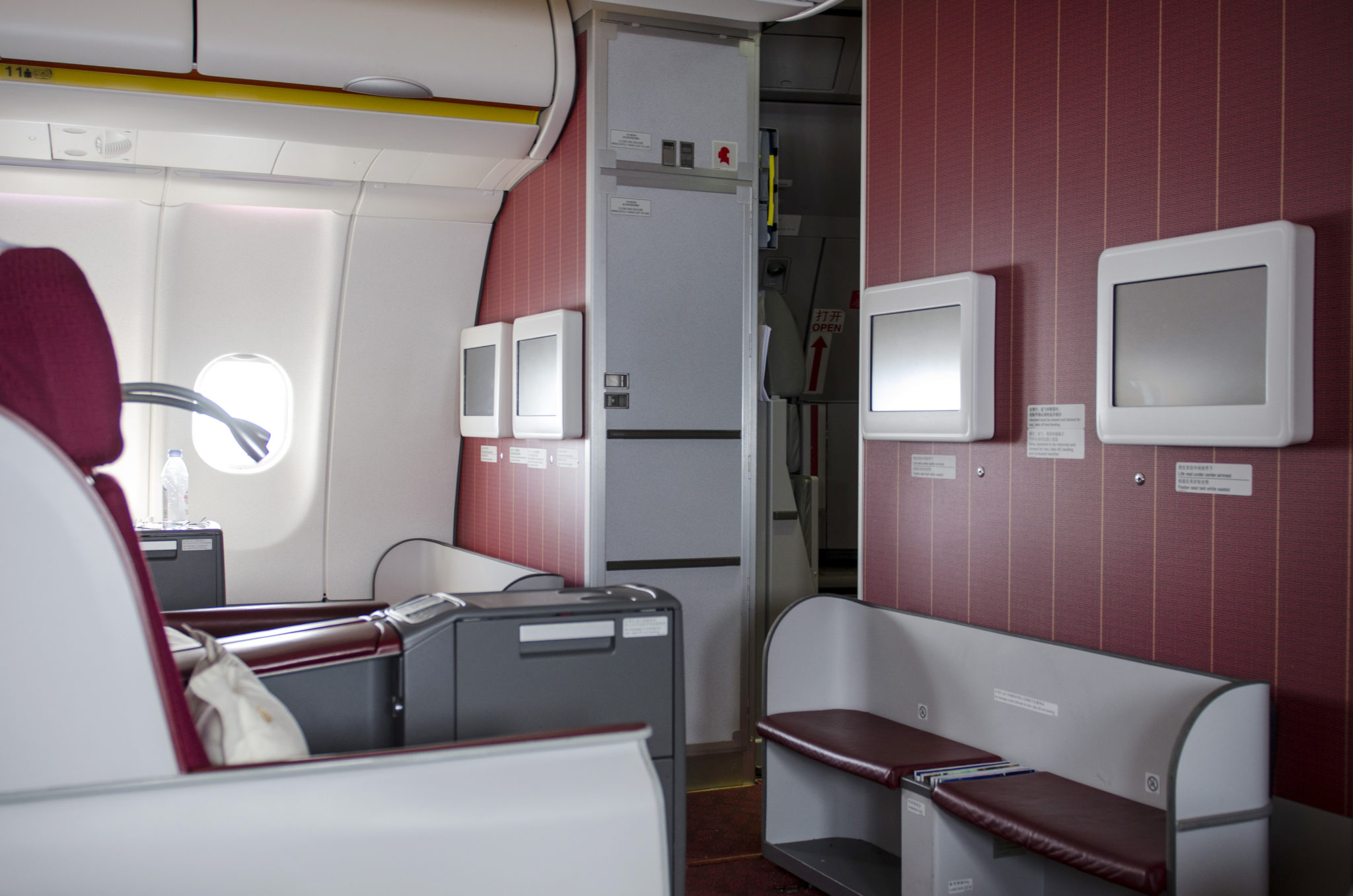 Cabin
Hainan Airlines uses an Airbus A330-200 for the flight from Berlin-Tegel (TXL) to Beijing Capital International Airport (PEK).
As there is no first class, Hainan's Business Class section is located at the front of the aircraft and is basically split in half with three rows in the front cabin and three rows in the aft cabin, that are separated by an area with the galley and two lavatories.
The 36 seats are arranged in a 2-2-2 configuration, a cabin layout that is no longer up to 5-star business class standards. Also, one has to forgo the convenience of enclosed suites or reverse herringbone seats. Nevertheless, the Hainan Airlines Business Class facilities are quite comfortable, especially when the flight is not fully occupied.
Seats
Each lie-flat seat in the Hainan Business Class Airbus A330-200 has 74 inches or 187 cm of pitch and is 22.5 inches wide. It thereby offers a fairly large legroom.
Admittedly, the seats feel a little outdated, as they are made of forward-facing recliner-style chairs. They can be fully reclined to full-flat beds for a good night's sleep. Doing so, the foot stool and cubby at the end become the end of the bed.
The most interesting thing about the cabin, however, is the bold and affirmative colour scheme. The eye-catching red upholstery features patterned stitching. Although the cabin may seem a bit old-fashioned, the simple design is still convincing.
The seat control is in the armrest. Hereby you can easily adjust the back of the seat as well as the leg rest and lumbar. Likewise, a massage function is integrated, which can be operated from here. There are also preset settings for a fully upright seating position and a fully reclined position. Each seat also has a charging outlet with a USB port and a universal adapter power slot that is compatible with all sorts of plugs, allowing you to charge electronic devices at any time. In addition, there are adjustable reading lights and overhead lights on the seat.
Service
The exclusively Chinese cabin crew introduces themselves in person. They address the Hainan Business Class guests with Sir and Madam. However, this does not seem overbearing. Immediately, a cotton bag for stowing private items is handed to everyone. The jacket is taken off directly and carefully hung in a jacket closet while you get a warm towel. Then newspapers are offered, including international ones like The New York Times. Safety instructions are presented while the Hainan Business Class passenger enjoys a bowl of nuts and a soft drink, that can either be orange juice, apple juice or a mocktail, which the crew particularly praises.
Entertainment is also guaranteed: Every business passenger is given some BOSE Noise-Cancelling Headphones that are branded with the Hainan Airlines logo and look like new. Unfortunately, it seems as if the crew wants to deal with everything right before departure. The flight attendants offer several amenities, including a blanket and cream-coloured pajamas, that almost have an imperial design. While this is handed over, passengers are also asked if they want to be woken up for breakfast.
Afterwards, the menu is handed over before take-off, which is laudable. However, one is immediately asked for the meal requests for dinner and breakfast. So unfortunately, there is not much time left to really think about the choice of food. The recommendation of the stewardess, however, easily exceeds the passengers' expectations. As common with Chinese airlines, there are both, Chinese and Western menu options.
After a glass of Leventre-Dedieu Grand Cru Brut, which is only offered after take-off, a Bordeaux is recommended. The flight taken for this review departs punctually, even seven minutes ahead of time, which is not exactly an everyday occurrence in Berlin-Tegel.
A little surprising is the fact that on board Hainan Airlines the use of smartphones is not allowed, not even in non-transmitting airplane mode, which the crew vehemently points out. Tablets, however, are allowed.
All in all, as a Chinese airline, Hainan Airlines has a distinctly service-oriented cabin crew that speaks English quite well. Only here and there, one has the impression that one word or the other is not understood at all. The personal care is still impeccable.
Amenity Kit
Each business class passenger receives a classic BVLGARI amenity kit. Packed in the bag are Bvlgari White Tea Moisturizing Series with Bulgari lip balm, hand cream and a cleansing wipe, as well as an eyeshade, earplugs, foot covers and a toothbrush kit. Bulgari lip balm, hand cream and a cleansing wipe.
Matching the pajamas, there is also a pair of lightweight slippers that can be used when heading to the on-board lavatories, where you will also find more Bulgari products, ranging from lotion to eau de toilette.
Food & Drink
Barely above the rooftops of Berlin, the food service begins. Hainan Airlines took its onboard catering to the next level. The menu is selected and put together exclusively for each flight by World-Class Chefs. On this flight, the selection is made by the restaurant La Bécasse in Aachen and by the Michelin-starred chef Christof Lang, who is in charge of the menu designing of flights departing from Berlin.
For dining, the centered console table is covered with a white tablecloth, before champagne and wine are served with Perrier mineral water as desired.
Shortly after, the chef introduces herself in person and offers two steamed signature Dim Sum with soy sauce as an amuse-gueule, which is followed by a basket full of various bread types, ranging from garlic bread over spitz roll, sesame roll, laugen roll and multigrain roll to Grissini that comes with butter and olive oil.
As savory starters are available:
Poached prawn and roasted scallop with lollo bionda salad
Rice noodle risotto with truffle
Chicken soup with black mushrooms
Lobster bisque
Salad:
Mixed leaf salad with corncob and cherry tomato
The evening menu offers a good selection of main courses:
Stir-fried chicken with black mushrooms
Fried scallops with rice noodles
Sautéed string bean with carrot and shiitake mushroom
or
Stir-fried beef with bell pepper and onion in hoisin chilli bean sauce
Fried cod fillet with spring onion
Sautéed snow pea with black fungus and carrot
or
Roasted beef fillet with veal jus, blanched zucchini spaghetti, braised chicory and potatoes
or
Soufflé of duck confit and mushroom with brown sauce
The chicken soup is served in style with a Chinese soup spoon made of porcelain and quite tasty, while the rice noodle risotto is probably liked especially by truffle dish lovers. However, there are also a few minus points: the salad selection is sparse and simply does not have much taste. The soufflé of duck confit and mushrooms, however, tastes good.
The main course is followed by a selection of sweet delights and cheeses that come with freshly brewed coffee or tea:
Brie cheese/Emmental cheese/Red cheddar cheese
Fresh seasonal fruit
Yoghurt mousse on goat curds cake with raspberry crumbles
Semolina pudding with strawberry sauce and assorted berries
Gourmet ice cream
Both the light fruit salad of melon, orange and kiwi and the cheesecake taste very good. The chocolate ice cream comes from the ice cream manufacturer Häagen Dazs. For a quick snack during the flight, there is also a selection of mid-flight snacks from fruits and cheeses to nuts, crackers and chocolates.
Throughout the flight, the beverage options are quite extensive:
Champagne: Champagne Leventre-Dedieu Grand Cru Brut
White wines: Château De Tertre De Launay, Lumière de France Burgundy White, San Medin Sauvignon Blanc
Red wines: Château Le Moulin De La Jaumarde, Château Gandoy Perrinat, Lumiere De France Costieres de Nimes Rouge, Capa Tempranillo
Cocktails: Passion Sandy, Whiskey & Soda, Screwdriver, Wine Spritzer, Bloody Mary, Gin & Tonic, Campari & Orange, Black Russian
Campari
Spirits: Johnnie Walker Black Label, Chivas Regal 12 Years Premium Scotch Whiskey, Hennessy V.S.O.P., Stolichnaya Vodka, London Gin
Liqueurs: Baileys, Kahlúa, Grand Marnier
Chinese alcohol: Yellow Rice Wine Hua Diao
Beer: Heineken, Yanjing Beer, Kaiserdom Dark
Various coffee drinks, Chinese and Western teas, fruit juices, sodas, mineral water
Drink requests will be accepted and fulfilled throughout the flight. Unfortunately, Hainan does not serve alcoholic beverages in business class prior to departure.
Immediately after dinner, the crew offers to prepare the bed before lowering the cabin light. The seat is reclined to a lie-flat position by a crewmember in just a few minutes, but with great attention to detail. The 180-degree surface of the fully flat bed may be a bit too hard for the one or the other. Also, as there is no room divider, a lack of privacy might be felt. In a fully booked business cabin this means that the seat neighbour is right next to the sleeping passenger. The Hainan bedding, however, is exceptionally good and includes two plush pillows, a bedsheet over the seat, and a large, really comfy blanket. Also, a bottle of water for the night is served immediately.
Also, there is a little downside. When testing this flight, one of the pilots sat down in one of the free centre seats to take a meal in close proximity to the Business Class passengers. Of course, that may be fine, only the timing could have been better.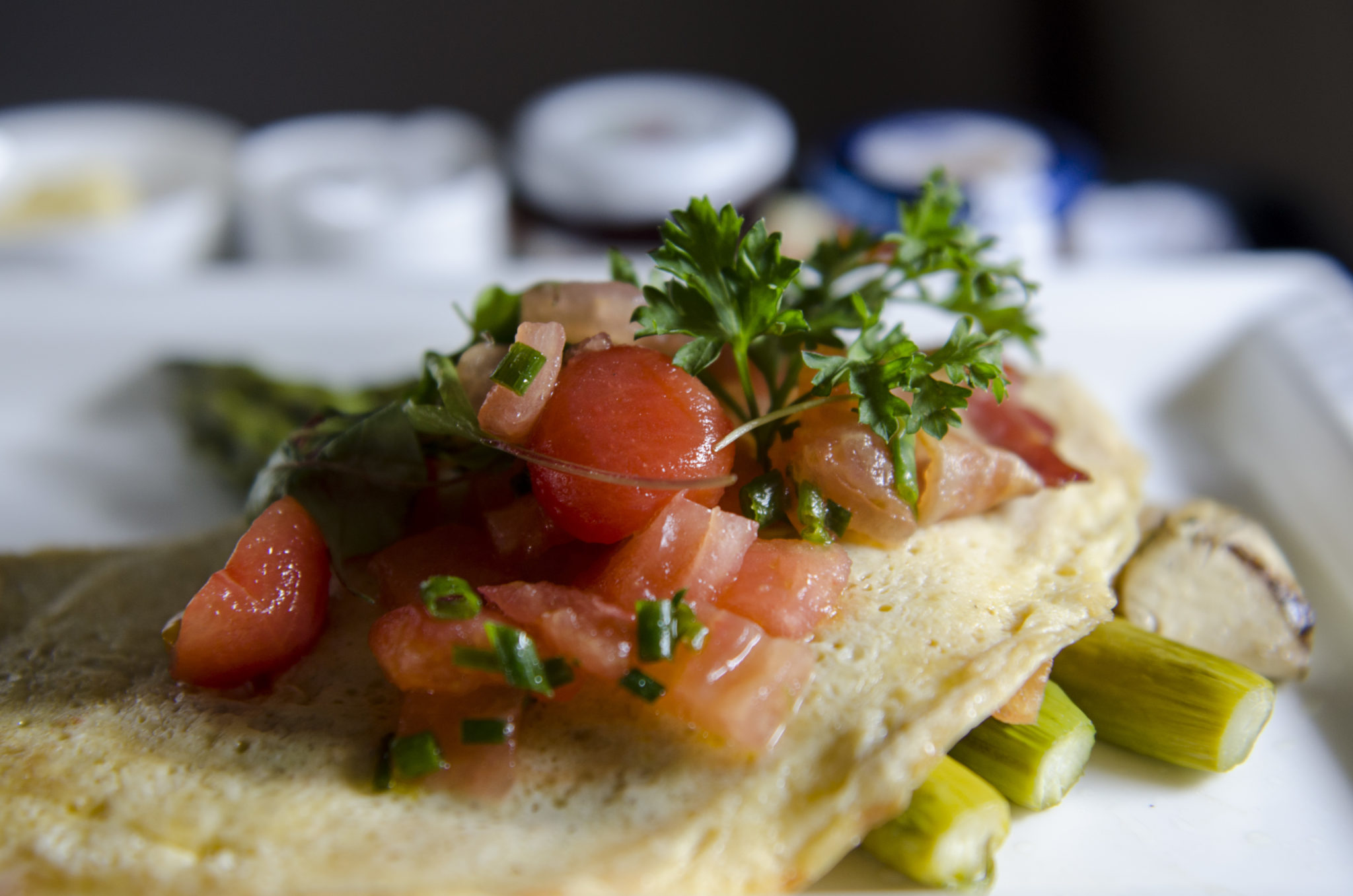 Breakfast: After the cabin slowly awakens over Mongolia, breakfast is served in the Hainan Business Class. Again, you have the choice between a Chinese pasta dish and a Western specialty:
Fried prawns with chilli sauce
Scrambled eggs with tomato
Sautéed bok choy
or
Egg noodles with kung pao chicken and vegetables
or
Omelette with tomato concassé, asparagus, bacon and grilled artichoke heart
or
French toasts with blueberry compote
Coffee, tea and a juice of your choice are served as requested, followed by a small fruit plate and cereals with whole or low fat milk. The bread basket is, as at dinner before, abundantly stocked with a croissant, a pumpkin seed cheese roll, a ciabatta roll, a chocolate roll and toast and is served at the same time with the main course.
Entertainment
Each Hainan Business Class seat has a personal monitor inserted into the back of the preceding seat or in the first row of seats stowed in the armrest. The screens are 15 inches with a decent resolution, although the size is not industry leading.
The in-flight entertainment is controlled by handheld remote controls, which are stowed in the armrest and admittedly a bit worn.
There is a rather modest, but good selection of featured films (32 current releases, but also some classics), a few TV series and also a selection of music and reading material. Here and there, small but funny mistakes made it to the German translation of the movie titles in the on-board entertainment system. For example, "Pirates of the Caribbean: Dead Men Tell No Tales" becomes (when translated back to English) "Kalibik's Pirate: dead man says nothing". And the science fiction film "Guardians of the Galaxy" becomes "Bodyguard from the Milky Way". Of course, these mistranslations are by no means bad, on the contrary, they tend to make for a little laugh.
Unfortunately, the flight cannot be tracked on the monitor because the flight map during this flight is broken. Even the stewardess cannot get the program working again, but apologizes for the inconvenience.
Very attentive is the replacement of the headphones shortly before landing. Instead of the BOSE noise-cancelling headphones, business class passengers get smaller ones in exchange in order to continue using the entertainment offer until leaving the aircraft. As a little surprise, one is given a small box of chocolates by the Belgian chocolate manufacturer Godiva.
Wi-Fi
Unfortunately, no Wi-Fi is offered on board the Hainan Airlines Airbus A330-200. It would be an easy improvement for Hainan in the near future, to install in-flight Wi-Fi also on the older aircraft.
The Bottom Line
As a 5-Star Airline, Hainan Airlines offers a truly solid business class product and arguably the best service product of a Chinese airline. The seats, the entertainment system and the Airbus itself are satisfactory, but not necessarily impressive. The lack of Internet on board confirms the impression that Hainan Airlines' Airbus A330-200 should be adapted to the latest standard of its own Airbus 330-300 fleet in the coming years and to the cabin with business class seats, which are characterized by a reverse herringbone seat.
The culinary offer on board the flight from Berlin to Beijing is overall surprisingly good and satisfactory. The selection of wine and spirits is decent. Likewise, the friendly and efficient service of the young, dedicated crew is something astounding, especially in comparison to other Chinese airlines. A special treat awaits the passenger on arrival in Beijing with the limousine airport transfer service at no extra cost.
The TXL-PEK route as a direct flight from Berlin to Beijing is unique from the German capital and has clear advantages to the alternative connections via the airports of Frankfurt, Dusseldorf, Munich or Hamburg without the need of connection flights. And for the onward flight within China, Hainan Airlines offers many connections within the People's Republic.
Planning a trip to Beijing?