Ethiopia is a country that is full of white robes and tactfully wobbling heads. It is also a country of quite a few kilometers of country roads with deep holes and numerous road stops because of passing cows, sheep and goats. It is also a country of colorful plates inserted in the lower lip and bright vegetarian sauces that are usually eaten elegantly with a piece of Injera bread by hand. Ethiopia is so different, so diverse and so peculiar that it can hardly be described by words. It is a very unique country and it is almost impossible to compare it to another country – whether it is the strong coffee, which tastes the best while sitting on a plastic chair along the roadside, the wide smiles of the locals, the thickly liquid avocado juice ordered at the cafe or the endless expanses of different regions of the country, which always enthrall their visitors with new adventures, people and landscapes. But to be short and concise, With endless things to do in Ethiopia, this country enchants every traveller and makes them return – again and again.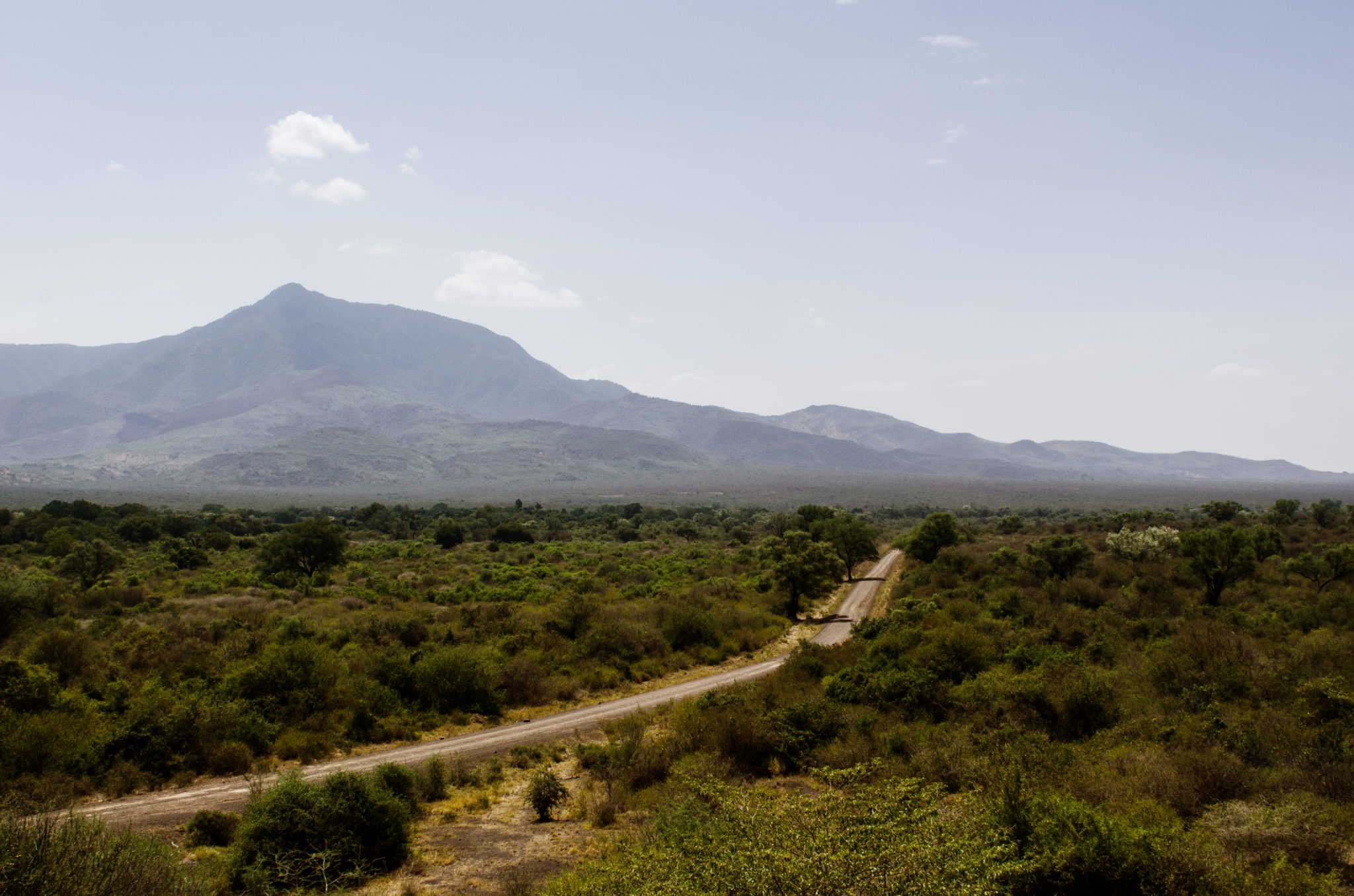 Highlights
With a total area of 1,104,300 square kilometers, Ethiopia is definitely not a small country – quite the opposite. The country is huge and offers new experiences at almost every corner.
Addis Ababa
The capital is colorful, it's full of life and it's a true melting pot. Whether it is a visit to the largest market in East Africa, called the El Merkato, or a drive to the roof of Addis, the Entoto mountain, or a fragrant coffee at one of the many cafes – the days in Addis Ababa pass by quickly in this fascinating country.
Lalibela & Mek'ele
The north-east of the country is not only one of the most important places to visit in Ethiopia, but also the full pride of the country's people:  a pride of the Ethiopians: the monolithic rock-cut churches of Lalibela. 11 rock-cut churches are located here, offering endless stories and enough reasons to simply sit down and watch the people sing, dance and pray. Besides Lalibela, the colorful city of Mek'ele with its many restaurants and live music is not only one of the top things to do in Ethiopia, but it also creates a perfect ending to an excursion to the north-east of Ethiopia.
Aksum, Gondar, Semien Mountains National Park, Bahar Dar & Tana Lake
An area that is so diverse and full of possibilities that you need almost a whole month to discover all. From the historical stelae in Axum, over the steep peaks of the Semien Mountains, to the eternal silence of Lake Tana – the north-west of Ethiopia is worth more than just a trip.
Danakil Triangle & Harar
Whether it be the Muslim city of Harar with its colorful walls and many small mosques, which can be found here on every street corner or the unique scenery of the Danakil desert: the east of Ethiopia is unforgettable.
Rift Valley, Arba Minch & Omo Valley
Southern Ethiopia is occupied primarily by the province called "Southern Nations, Nationalities and Peoples' Region" – and the name says it. Almost 45 different ethnic groups, such as the Mursi and the Dorze, live here, many of which are known as indigenous people. An exciting journey into a world that is far from being similar to the western society.
Kaffa, Jimma & Bonga
Anyone who has already fallen in love with the coffee of Ethiopia will also like Kaffa. This region is considered to be the birth-place of coffee. Here, the wow moments change from wild coffeepots to wide fields and dense forests in the back-view behind the car.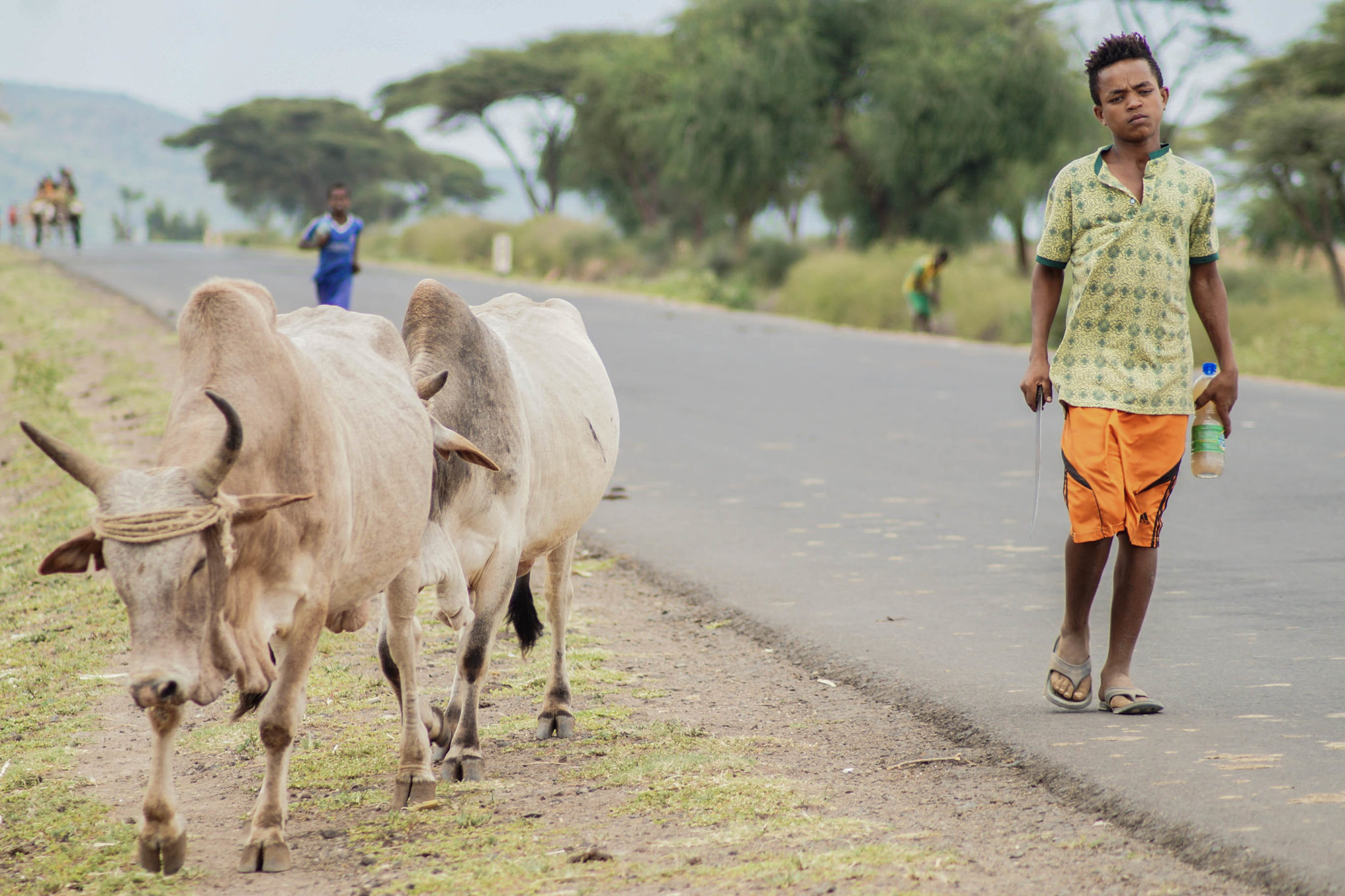 Arrival
By Plane
The main airport of Ethiopia is the Bole International Airport in Addis Ababa. This airport is served daily by the domestic airline Ethiopian Airlines, as well as by five flights per week from Lufthansa, daily flights by Turkish Airlines and four times per week by EgyptAir.
American travellers can benefit from a direct flight with Ethiopian Airlines to Addis Abeba, leaving from Washington. Alternatively, EgyptAir flies from New York via Cairo to Addis Abeba.
British travellers could make use of the connection from London via Jeddah in Saudi Arabia to Addis Abeba. The flights are operated by Saudia. Alternatively, Birmingham Airport is well-connected to Addis Abeba, thanks to the Lufthansa connection via Frankfurt and Jeddah in Saudi Arabia.
Advice: If you decide to fly with Ethiopian Airlines on your long-haul flight to Ethiopia, you will certainly benefit from huge discounts on the domestic flights. If you, for example, decide to fly from Addis Abeba to any other local destination in Ethiopia and you wish to take Ethiopian Airlines, make sure to book via the official website and remember to actually be in Ethiopia already. You will notice a discount of sometimes even 40-50% on the actual flight price.
By bus
Buses to Ethiopia leave from various neighboring countries, such as Djibouti, Kenya and Sudan. Bus tickets are obviously cheaper than airline tickets. Nevertheless, the condition of the buses varies greatly depending on the ticket price. Also, because of the bad road conditions, the journey by bus is clearly longer.
By car
Anyone who chooses to drive a car for this long journey from Europe or the US to Ethiopia has to consider several aspects pertaining to this trip. For example, the transition from Eritrea to Ethiopia is closed. However, there are no problems with direct trips from other neighboring countries. Car drivers should inquire whether a "Carnet de Passage" is required for the normal proof of insurance. Another matter worth mentioning is that you will be asked for an official letter from your home Embassy, that will confirm that the vehicle will be carried out of the country again. When entering Ethiopia, each driver must complete or provide proof of liability insurance.
By train
The good news is that there's a train from Addis Ababa to Djibouti and back. From Addis Ababa Levu train station, the trains take the 760-kilometer journey to the Red Sea state in Djibouti in just 10 hours – much faster than it ever was by car.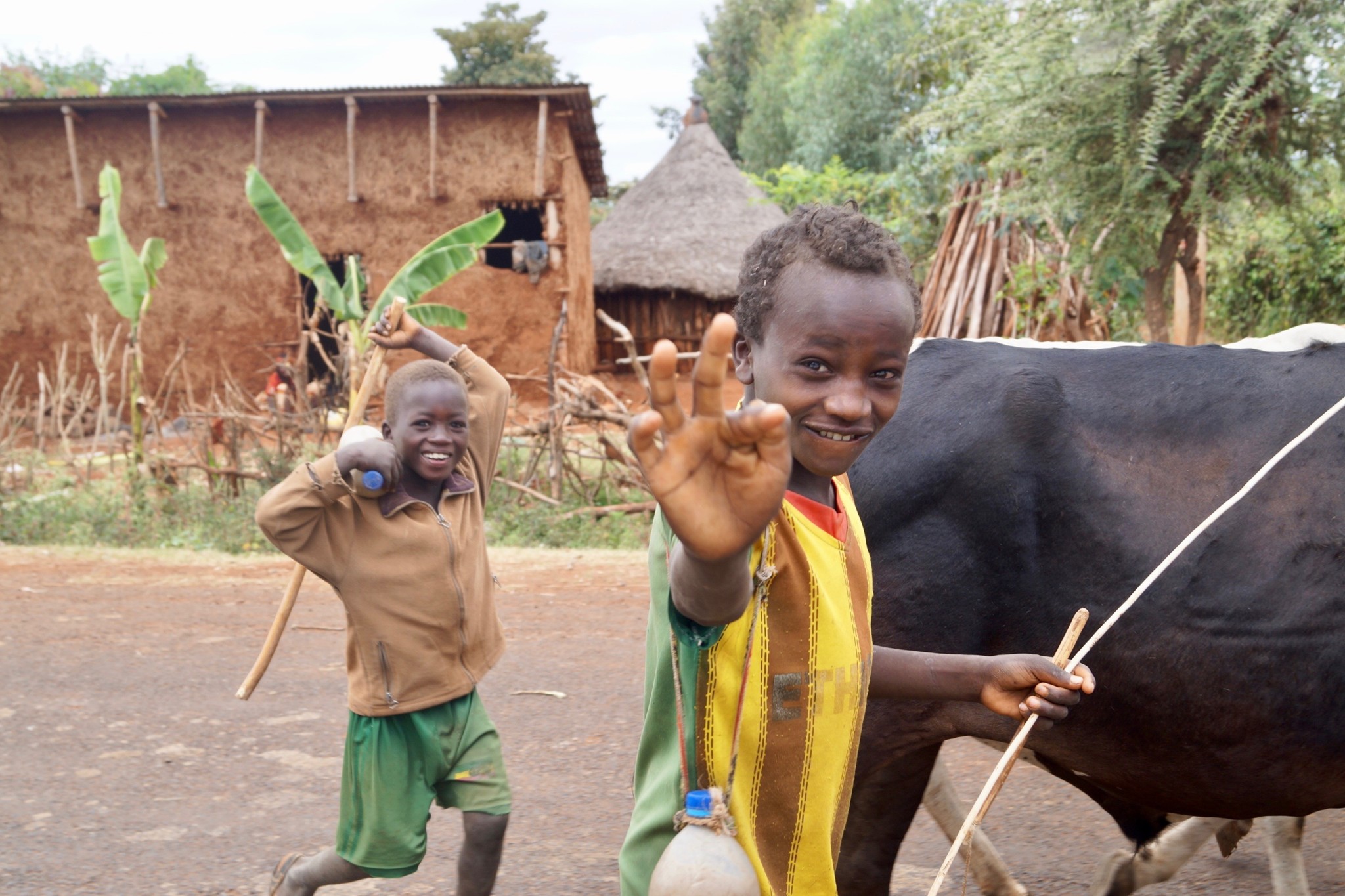 Visa regulations
Luckily entry into Ethiopia is fairly easy. When upon arrival you present a passport, which should still be valid for at least six months, you will be issued a "Visa on Arrival".
British citizens are required to organise a visa beforehand, if entering from another airport than the main airport in Addis Abeba. Visas on arrival in Addis Abeba can be purchased at a cost of approximately $US50 for 1 month and $US75 for 3 months (Euros, US dollars and Ethiopian Birr are all accepted). All other categories of visitor must get a visa from the Ethiopian Embassy closest to their place of legal residence before travelling.
American citizens can easily get the Ethiopian tourist visas upon arrival only at Bole International Airport in Addis Ababa. Single entry tourist visas are available upon arrival and cost $50 for one month and $70 for 3 months validity.
If you are from any other country than the ones mentioned above, please refer to the visa information given by your country's authorities.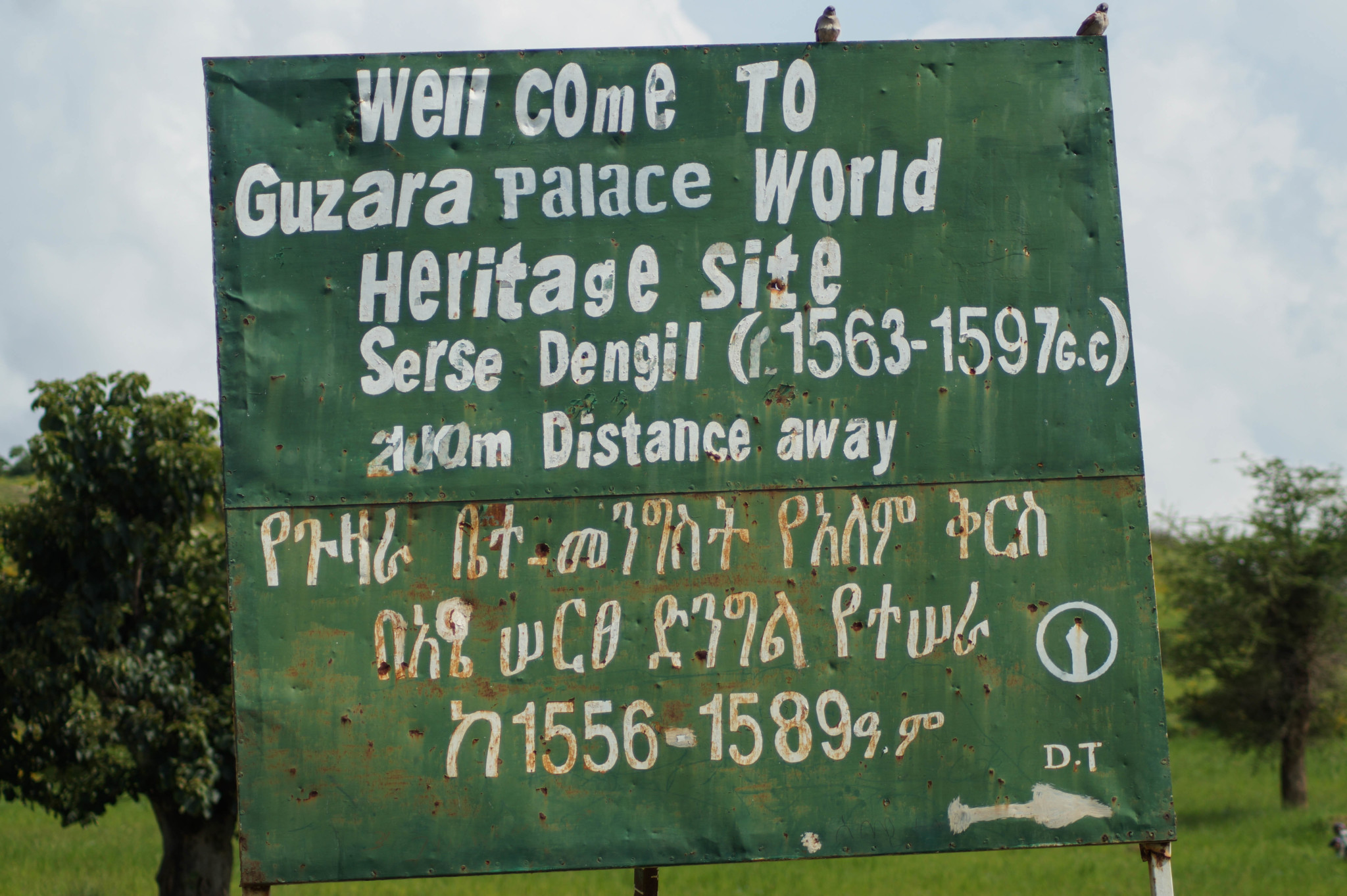 Language
The language spoken in Ethiopia is the Amharic language. However, almost every region has its own spoken dialect, so in the end it turns out that there are 85 recognized languages in Ethiopia. At the same time many Ethiopians speak English, simply because English is taught at schools.
Hello – ሰላም (selam)
Yes – አዎ (aw)
No – አይ (aj)
Please – ምንም አይደል (minim ajdel)
Thank you – አመሰግናለው (ameseginalew)
I do not speak Amharic – አማርኛ አልናገርም (amarigna alinagerim)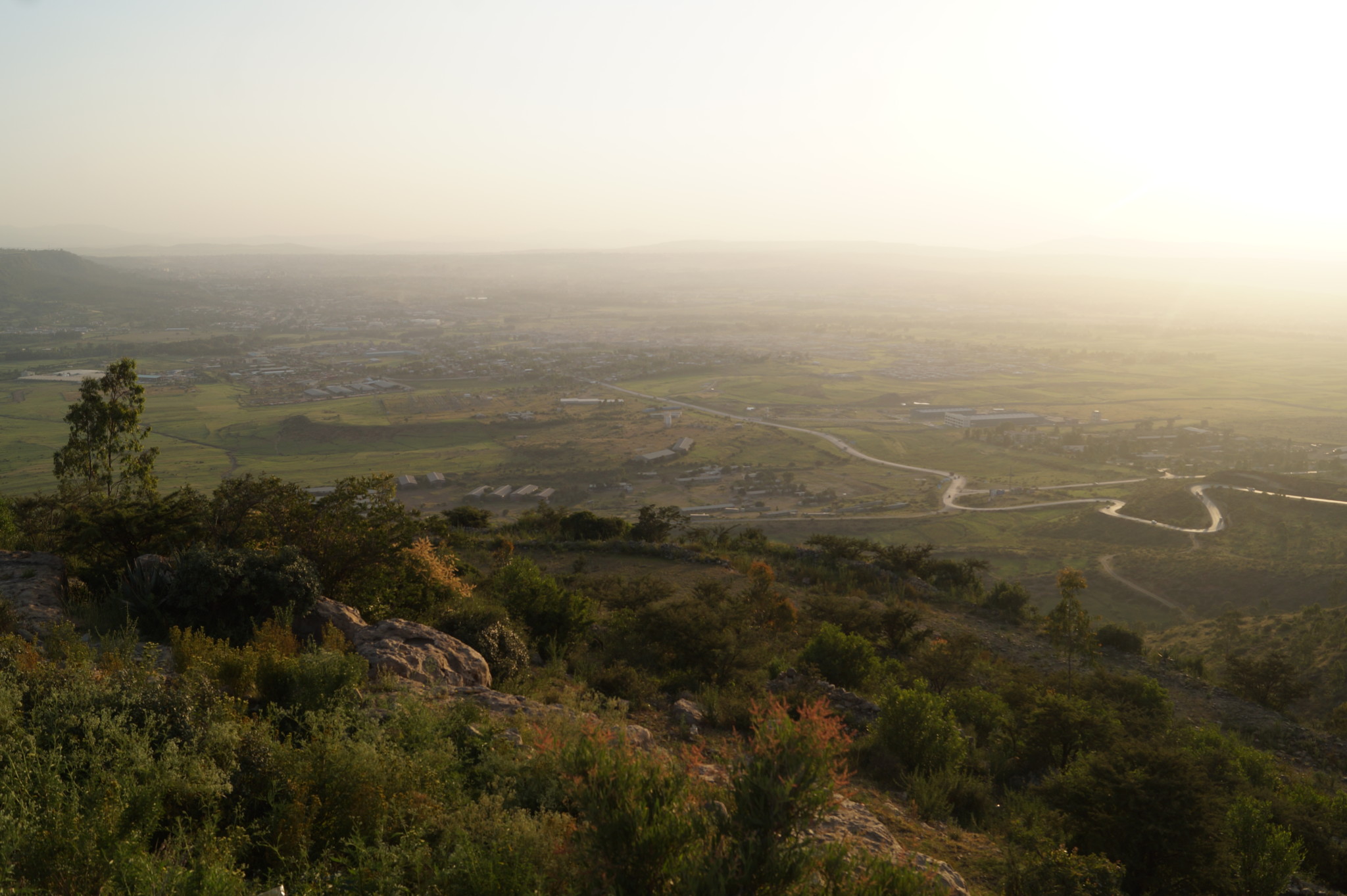 Best time to travel to Ethiopia
Ethiopia is located in the subtropical climate zone and can be divided into three different sub-climatic areas due to the high differences in altitude. Thus, the climate in the regions of up to 1.800 meters above the sea level is tropically hot, with annual average temperatures of around 27°C. Up to an altitude of 2,500 meters, it is usually warm most of the times. And finally anywhere above 2,500 meters is cool with a daily temperature of approximately 16°C and, thus, offers immense opportunities to work through the list of things to do in Ethiopia.
The main rainy season is between June and September. There is also a small rainy season during February and March. Therefore the best travel time for Ethiopia is during the months of October until May. However, the weather is most pleasant between November and January.
Addis Ababa is located at 2,400 meters above sea level and therefore offers a nice climate all year round. In the deserts of Danakil, on the other hand, there is extreme heat and drought.
Currency and payment in Ethiopia
The currency used in Ethiopia is the Ethiopian Birr (ETB).
Credit cards
In larger hotels you can often pay with the usual credit cards (Visa and Mastercard). This is also often possible in shops, cafes and international car rental companies.
ATM
In larger cities there are many ATMs, where you can easily withdraw cash with the usual credit cards like Visa and Mastercard.
EC-cards
EC-cards are rarely accepted.
Money exchange
Major foreign currencies can be exchanged in banks and in exchange offices. The exchange rate is fixed by the state.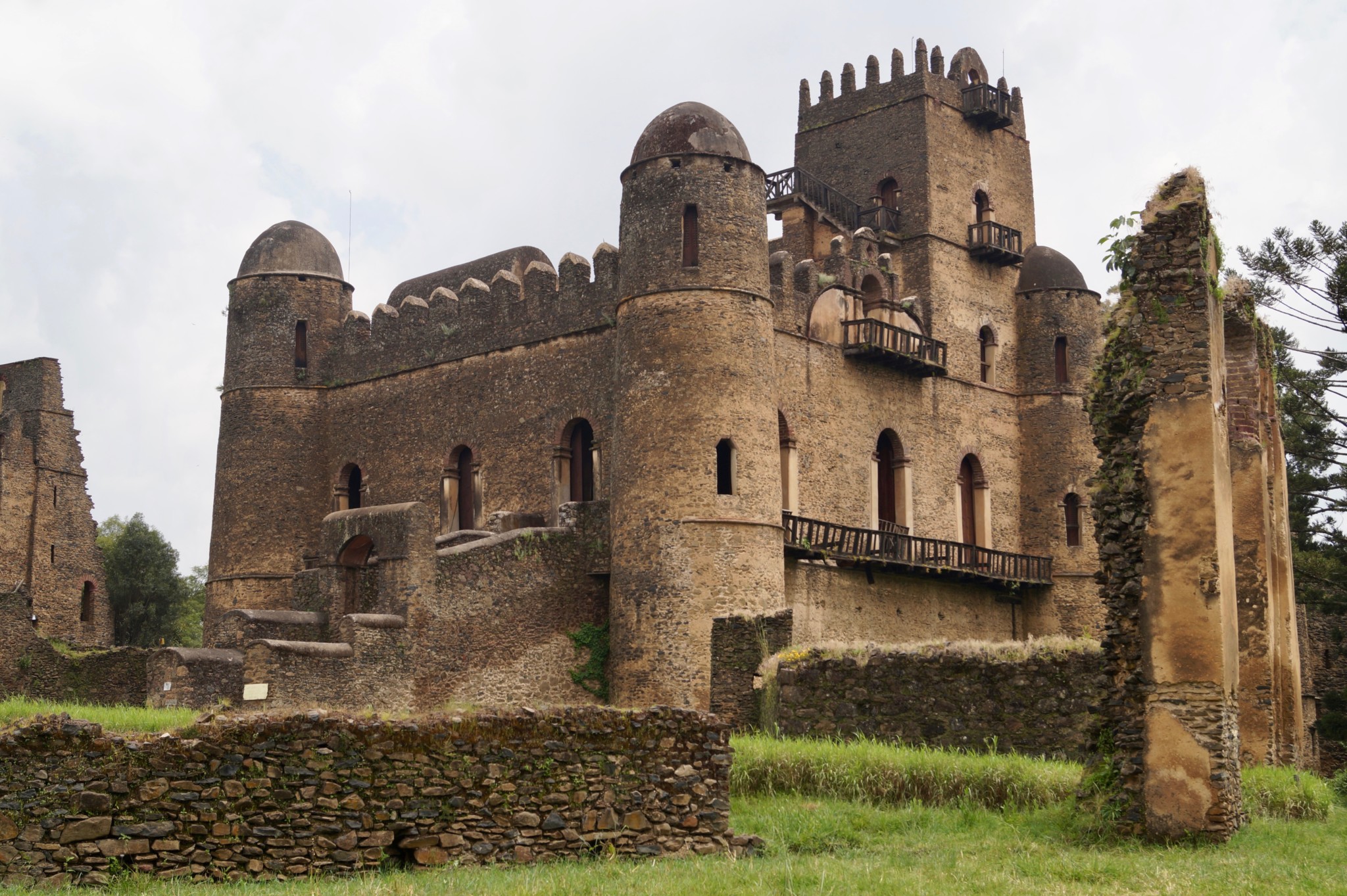 Accommodation
Accommodation in Ethiopia ranges from very, very simple inns over ordinary hotels, to the 5-star-luxury complexes. However, the latter is rather a rarity. Nevertheless, the accommodation in Ethiopia are good, the hotels and guest houses are mostly clean and tidy and usually have hot water.
Safety regulations
On October 8th in 2016, the Ethiopian government declared a state of emergency. This was because of mass demonstrations and partial violent protests, which had previously taken place in the regions of Oromia and Amhara. Reasons for protests and demonstrations was related to disagreements between the people and the government. However, this had no great influence on traveling. As a tourist, it is rare to be the focus of such demonstrations, since the Ethiopian population is much more concerned with the contact to the government than with the resistance against tourists and will, hence. not stop travellers and their things to do in Ethiopia.
Please take note of the current travel and safety advice and refer to the federal offices' recommendations.
Public transport in Ethiopia
By flight
Considering the size of Ethiopia, taking planes to get from A to B is a wise decision. The best way to do so is taking flights operated by the national air carrier Ethiopian Airlines. Once you actually entered the country from abroad by taking an Ethiopian Airlines flight, you can benefit from major discounts on local Ethiopian Airlines flights.
By intercity bus
Travelling by bus in Ethiopia is a real adventure. The wobbly buses are crowded with people, animals and food when they drive through the entire country. Most of the times the music is so loud, that the laughter and the muttering of the passengers simply cannot be heard. The buses in Ethiopia are divided into three classes: Level 1 buses are the best buses in the country, followed by Level 2 and level 3, which are usually very simple and older buses. The bus companies Selam Bus (http://www.selambus.com), Alliance Bus and Waliya Cross Country are highly recommended. Note: Ethiopia is a very big country, which makes bus trips a really long adventure. For instance, the ride from Addis Ababa to Mekele takes about 12 hours. Intercity buses in Ethiopia cost about 1.30€ per 100 kilometers.
By tram
Addis Ababa has the first all-electric city tram in the 50 sub-Saharan countries. The tram-way is 17 kilometers in total and it has 22 stations. A ticket for the city tram costs approximately 0.25€.
By taxi
Taxis in Addis Ababa are mostly available for smaller routes. However, it is important to find out about the prices and fees from the driver before starting the trip. Bargaining with the taxi driver is the most important thing here, since, as a tourist, you typically end up paying double and sometimes even triple of the actual price. Taxis are coloured in blue-white in Addis Ababa.
By minibus taxi
In most places of Ethiopia, and especially in the metropolitan cities, there are minibus taxis that can hardly be beaten when it comes to pricing, but mostly they don't have proper signs of their destinations. This means that it will be hard to identify where the minibuses are heading to.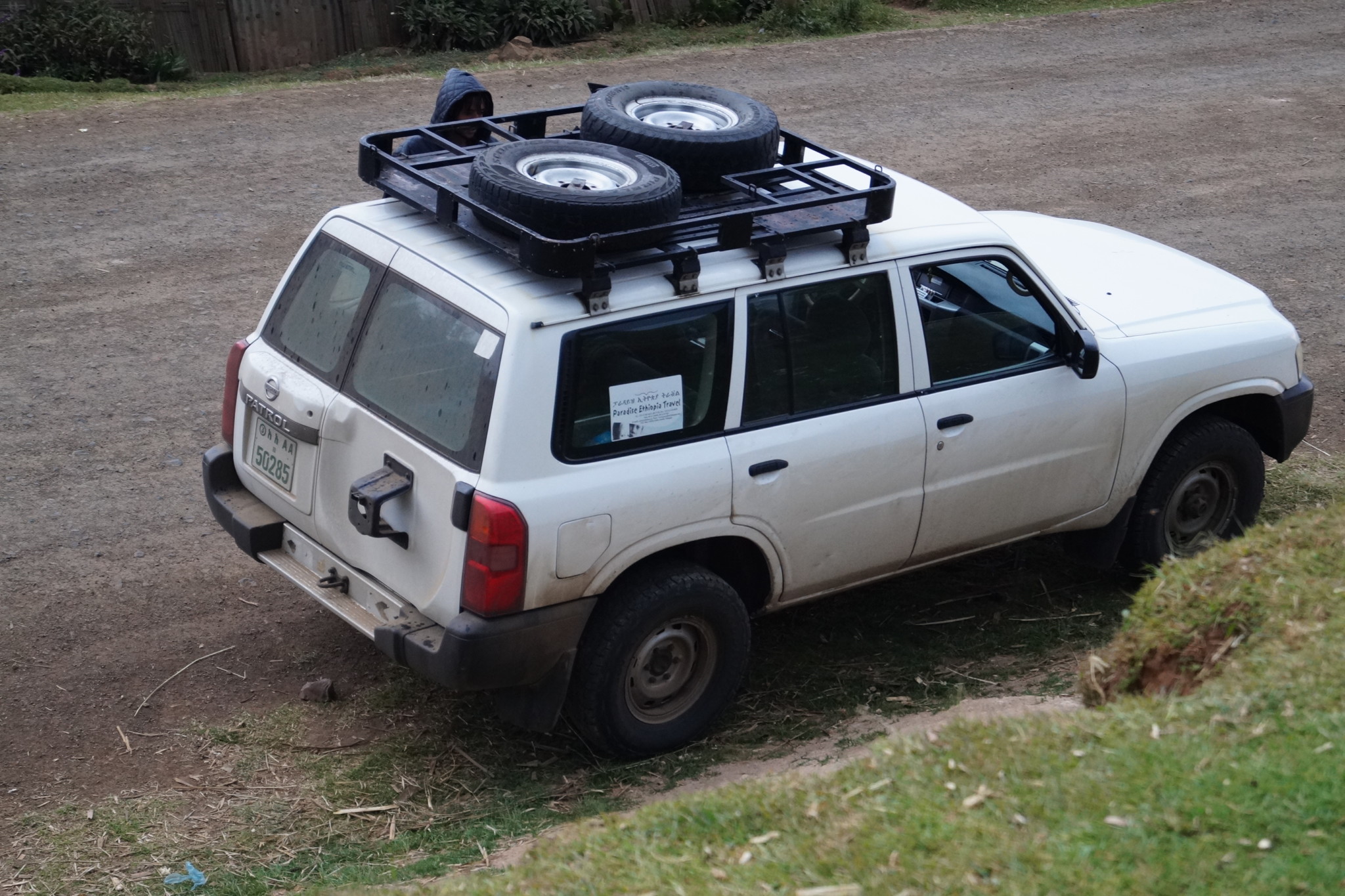 By car
Rental cars in Ethiopia can be rented both at international companies and at local car rentals. Please note however, that at local car rentals cars are always rented with a driver. The north side of the country is more suitable for travelling by car, because of good road conditions. Ethiopia has a total road network of approximately 36,470 kilometers. However, only about 6,980 kilometers are asphalted. Especially in the south of the country it is almost impossible to drive around without a 4WD-vehicle, because of sandy and bumpy roads. Moreover, one should be aware that the roads are used not only by cars, but also by pedestrians, children, and cattle. Due to all of these factors, one should be ready, both, as a driver and as a rider for very slow road trips. It is important to always have enough water and food, as well as at least one spare tire and enough gasoline. If you would like to experience the adventure of Ethiopia as a driver, you should turn directly to the international rental companies.
Religion
The majority of the Ethiopian population is very religious. The two largest religious communities are the Ethiopian Orthodox Christians (43%, especially Amhara and Tigray) and the Sunni Muslims (34%, especially Oromos). However, there are also Catholics, as well as members of the Ethiopian-Evangelical Church, Jews, Sikhs, Hindus and followers of various world religions.
More travel tips for Ethiopia
Health regulations and advice
Medical care in Ethiopia is by no means comparable to the one in Europe – both technically, as well as apparatus and hygienic wise. Travelers should take care of necessary vaccinations long before departure. The Robert Koch Institute recommends standard vaccinations for children and adults. Among other things, tetanus, diphtheria, pertussis (whooping cough), mumps, measles, rubella, pneumococcus and influenza vaccinations should be refreshed before travelling.
Acclimatization: Due to the altitude, there might be an acclimatization time needed.
Schistosomiasis: Schistosomiasis pathogens are found in rivers and ponds across the country. Especially in the Omo River you should neither bathe nor wade.
Cholera: There is a risk of cholera infection. To protect yourself, you should pay attention to what kind of water you're drinking and to food hygiene in general. Since the effectiveness of vaccination is controversial, it is recommended to seek medical advice in good time prior to the travel.
Dengue fever: Dengue fever occurs all over the country, intensified in the east (province of Dire Dawa and Afar). Effective insect protection is recommended.
Typhus: In the cold uplands typhus can occur, a fever caused by clothing lice. Regular body and garment hygiene is recommended.
Filariasis: Filariasis occurs nationwide. Travelers can reduce the risk of transmission if they use an effective insect repellent.
Yellow fever: Ethiopia is considered a country with yellow fever infections. Therefore, vaccination against yellow fever is required for all travelers entering a yellow fever area. The WHO strongly recommends vaccination for all travelers in yellow fever infection areas, regardless of national regulations.
Hepatitis: Hepatitis A and E are widespread, hepatitis B is endemic. Hepatitis A vaccination is recommended. For long-term stays over 4 weeks or in cases of special exposure, a hepatitis B vaccination should be considered.
HIV / AIDS: AIDS is widespread in Ethiopia. It is therefore advisable to take the necessary safeguarding measures during sexual intercourse. Also unclean syringes and needles represent a considerable health risk.
Culinary risks: There is a risk of infection due to contaminated food. To protect yourself against infectious diseases, it is advisable to say no to fresh salads, ice cubes and ice cream. Vegetables should be cooked and peeled. Water should generally be boiled before drinking and brushing. The same applies to milk. Tap water should not be drunk. When purchasing packaged water, care should be taken that the original packaging has not been broken.
Leishmaniasis: Leishmaniasis is transmitted through sandflies, which can occur under 2000 meters above sea level. It is advisable to protect oneself with insect repellent and skin-covering clothing.
Malaria: Malaria protection is required all year round under 2,200 meters above sea level. In the capital, Addis Ababa, there is no risk of malaria. Mosquito repellent as well as drug prevention is recommended.
Meningococcal meningitis: Meningococcal meningitis can occur particularly from December to May – especially in the south and west of Ethiopia. Vaccination is recommended.
First aid kit: An individual and comprehensive first aid kit should be taken.
Travel Health Insurance: The travel insurance with repatriation insurance / air ambulance is strongly recommended.
Sleeping sickness: Sleeping sickness occurs especially in the West above 2,000 meters. This is transmitted by mosquitoes, so careful insect protection is advisable.
Rabies: Rabies occurs nationwide through dogs, cats, wild animals and bats. A vaccination is recommended for backpackers, children, occupational risk groups and for longer staying travelers. Seek medical help as soon as possible for bite wounds.
Tick bite fever: Tick bite fever occurs all over the country. It is advisable to protect oneself with insect repellent and skin-covering clothing.
Please refer to the site of the WHO for detailed health information for the designated travel destination.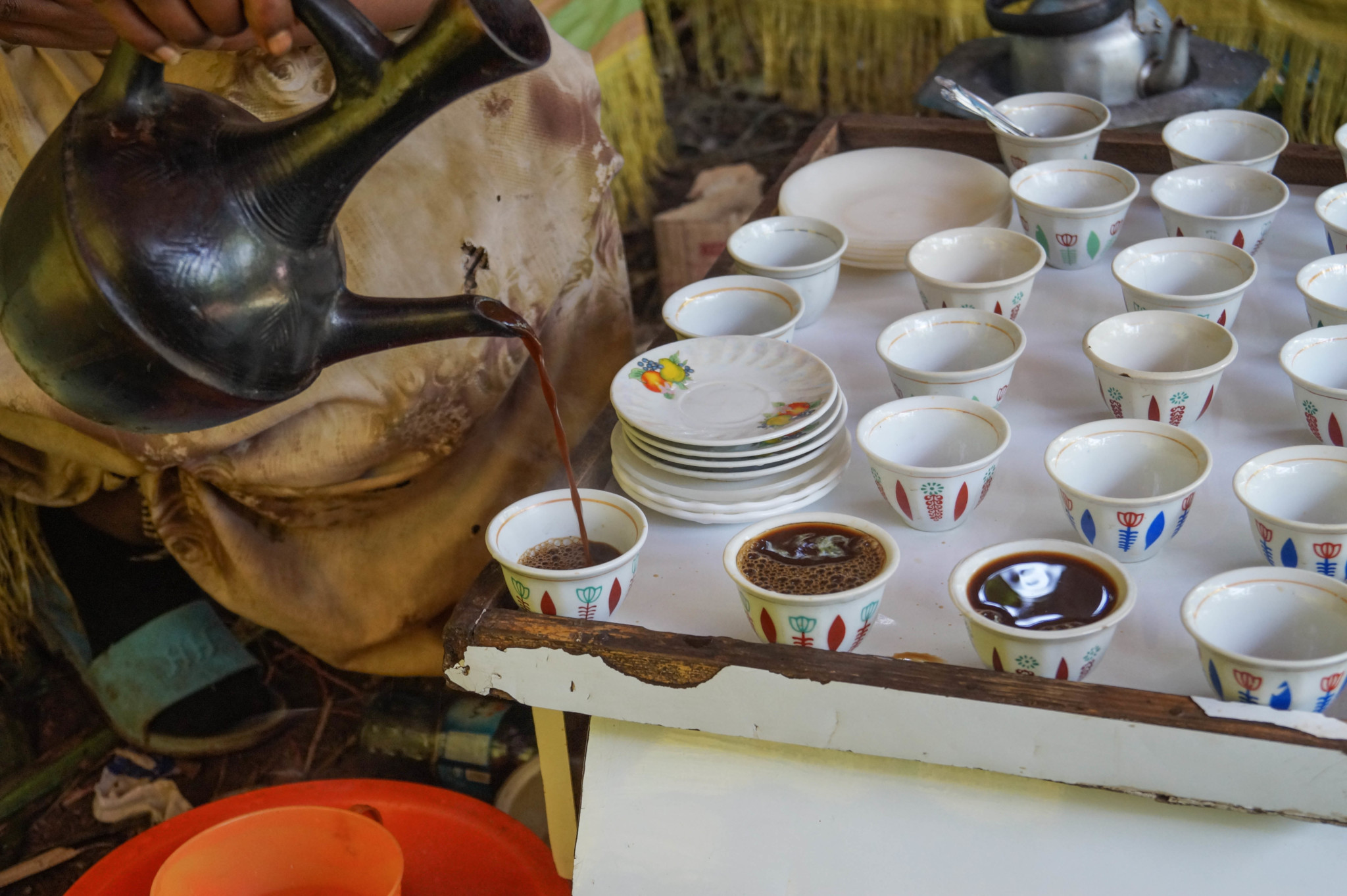 Food & drinks
Ethiopian cuisine can hardly be compared with the cuisine of other African countries, but it has a lot to offer. The basis of most Ethiopian dishes is the soft sourdough bread Injera, which is made from the native Ethiopian grain Teff and which serves as knife, fork and spoon in one. Thus, traditionally food is eaten by hands in Ethiopia. Beware to only use the right hand for eating. Injera is eaten with various vegetarian and meat-containing sauces (Wot). The Ethiopian food is spicy in general, often through the spice called Berbere. Also, many components of the meal are usually served separately in small bowls.
Simple restaurants and food stalls are everywhere. They are recognized by a sign with a Mesob symbol. In traditional Ethiopian restaurants you sit around small, often colorful and woven tables called mesob. There, before the meal, you are served with soap, water and a towel to wash your hands.
In general, meat is considered a luxury in Ethiopia and it is only eaten by those who can afford it – and that is by far not everyone. Camel meat is popular, whereas the consumption of pork is excluded both in Islam and in the Ethiopian Orthodox Church. Like most orthodox churches, the Ethiopian Church forbids the consumption of meat on Wednesdays and Fridays as well as during the pre-Easter fast. Instead, the Christians eat a mash of lentils, while the restaurants mostly serve Alidscha, a vegetarian dish consisting of vegetables and sauces.
When it comes to drinks, Ethiopia is, of course, known for one thing: its coffee. Ethiopia is the birth-country of coffee. Here it's called "Buna" in. According to the legend, a goat shepherd in the Kaffa region accidentally discovered the effect of coffee beans on his goats, that were active until very late into the night and jumped around wildly. It was Ethiopian monks who finally brewed the first coffee. Today serving coffee in Ethiopia is a proper ceremony that actually takes a while to be finished. Once brewed coffee is served in a jabana, a special mug.
There are also other traditional drinks that are very popular, such as the sweet honey wine Tej or the millet beer Talla.
Travel costs
Ethiopia is definitely not an expensive holiday destination, judging solely by the food. A typical Ethiopian dinner or lunch often costs no more than two to three euros (about 52,000 to 80,000 birr).
The most expensive thing about Ethiopia is transport. Most of the times, a rental car can not be lent without a driver and is therefore more expensive than in other countries. However, if you want to travel through the country by yourself, you will be pleased with the favorable prices for bus tickets.
According to this, a backpacker will pay about 20-30 euros per day, whereas an individual traveler will have to spend from 35 to 50 euros per day.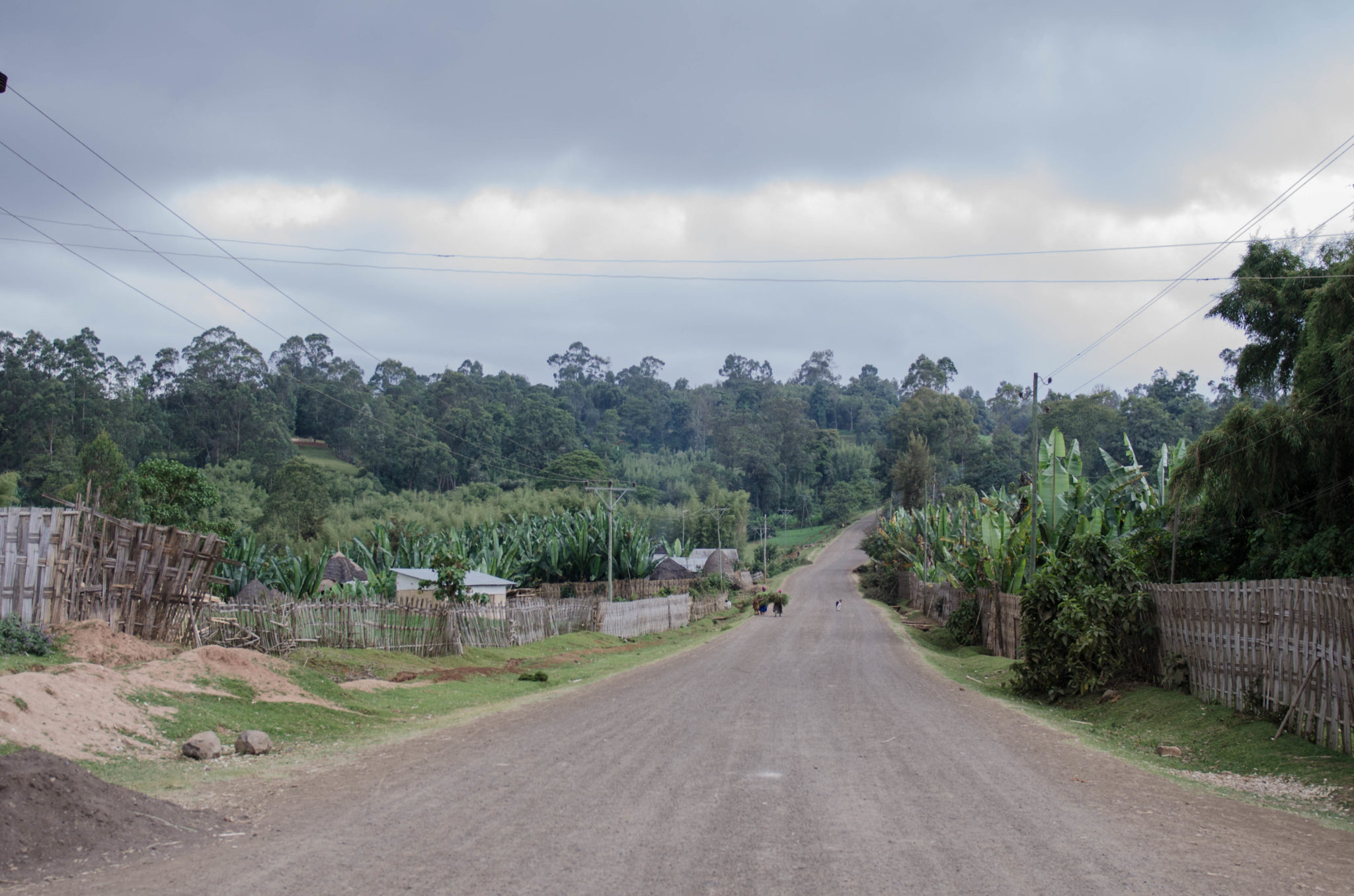 Internet and SIM-cards in Ethiopia
Internet is available in Ethiopia, but remains a privilege of a few in most regions. According to World Bank estimates, only about 1.9% of the population had access to the Internet in 2014. Other sources claim that the numbers are 2.5%. Larger hotels with international guests and various cafés in Addis Ababa offer WLAN. Internet cafés are also very popular.
SIM card and mobile internet in Ethiopia
You can buy a prepaid Ethiopian SIM card at various kiosks in major cities, which can be recharged as often as you like (Ethiopian Telecom Ethionet: http://www.ethionet.et). However in the south of Ethiopia, there is hardly any way to acquire a SIM card or data. It is therefore recommended to buy a SIM in Addis Ababa.
The Internet and the mobile network are regularly interrupted. In the wake of the protests the mobile Internet in Ethiopia gets switched off in many parts of the country. It is said that the Internet is monitored. Also, there were arrests of dissident bloggers and journalists.
Literature
There is a nice small travel book called The country of 13 months. Also, the Lonely Planet Ethiopia, Djibouti & Somaliland can be an interesting additions in English language.
These articles could also be interesting